Cobras tie for third in post-season tournament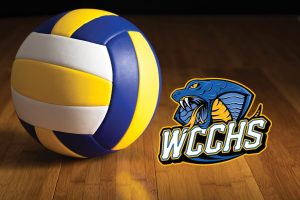 By Rob Vogt
The Willow Creek Composite High School junior "B" girls tied for third place in their post-season tournament on the strength of some thrilling volleyball.
Willow Creek Composite High School hosted the league post-season tournament on Saturday, Oct. 28, welcoming teams from the Crowsnest Pass; Fort Macleod; Lundbreck; Piikani Nation; Kainai Nation; Pincher Creek; and Nanton.
Claresholm actually had two teams. WCCHS 1, was made up entirely of Grade 7 players, while WCCHS 2, consisted of Grade 7 and 8 players.
WCCHS 1 finished fourth in the league regular season, giving them a first-round bye.
They faced the Livingstone School Sabres of Lundbreck in the quarter-finals, and played a match to remember.
After falling behind 13-6, and 18-11 in the first set, the Cobras mounted a stirring comeback.
They found themselves trailing 23-21 and running out of time, so they called their final time out of the set.
They came out of that time out and tied the match at 23-23.
The teams traded points until the Cobras finally surged ahead and won the first set by a score of 27-25.
The Sabres re-grouped, this time falling behind by scores of 5-1 and 16-12, before going ahead 11-6 and finally winning by a score of 25-20 to tie the match and send it to a third and final set to 15 points.
Again, the teams went back and forth beore the Cobras pulled ahead 13-7 and went on to a 15-13 win in the set, and a 2-1 win in the match.
Awaiting them in the semi-finals was the F.P. Walshe Flyers, who had finished first overall in the regular season.
The Flyers proved to be the best in the league, defeating the Cobras in straight sets by scores of 25-17 and 25-12.
They would go on to win the tournament, defeating Nanton in the final.
Since the tournament was a single-elimination event, there was no third-place game, so the Cobras finished tied for third place.
Meanwhile, the WCCHS 2 team, who finished sixth in the league, played St. Michael's of Pincher Creek in their opening match.
The Cobras took the opening set by a score of 25-20, before falling to the Dragons by a score of 25-23 to tie the match.
The Dragons would prevail, winning the third and final set by a score of 15-7 to advance to the quarter-finals, while the Cobras were finished.