Claresholm Under-15 Thunder win home tournament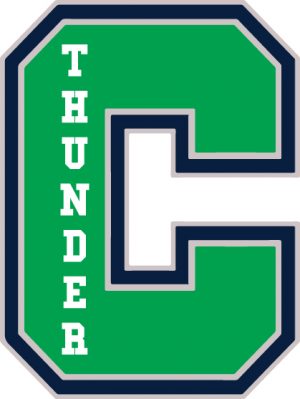 By Rob Vogt – Local Press Writer
The Claresholm Under-15 Thunder hockey team sent their fans home happy with a 3-0 victory to win their home tournament on the weekend.
The Thunder defeated the West Country Chiefs in the tournament final on Sunday afternoon, Jan. 22, on the strength of goals by Ty McLean, set up by Blake Cisar and Jace Campbell; Bergen Flynn, assisted by Simon Kohut and Campbell; and Kieran Pothegadoo, set up by Seannon Ocampo and Kohut.
Goaltender Finn Buhmiller stopped 18 shots for the shut-out win.
The Thunder opened the tournament bright and early Saturday morning, Jan. 21, with a 6-2 win over Elk Valley.
Grady Smith opened the scoring on the power play, assisted by Kieran Pothegadoo and Flynn, to give the Thunder a 1-0 lead after the first period.
Claresholm would go up 3-0 in the second period, on goals by Cisar, assisted by Cody Tompkins and Micah Rice; and Kaden Pothegadoo short-handed and assisted by McLean and Kieran Pothegadoo. But, Elk Valley scored with just five seconds left in the period to make the score 3-1 after two periods.
The Raiders would close to 3-2 a minute into the third period, but Claresholm exploded with three unanswered goals to skate to the 6-2 win.
Scoring for the Thunder were Smith, assisted by Kaden Pothegadoo and Josh Gibson-Morrison; Joseph Martin, assisted by Gibson-Morrison and Flynn; and Flynn, assisted by Rice and Grayden Desjarlais.
Buhmiller stopped 15 shots for the win in net.
Claresholm was back on the ice Saturday afternoon, where they defeated West Country by a score of 4-2.
After a scoreless first period, the Chiefs took a 1-0 lead before the Thunder stormed back with two goals to lead 2-1 after 20 minutes.
Kieran Pothegadoo opened the scoring, assisted by Kohut and Cisar; then Rice scored on a set-up from Flynn and Cisar.
West Country tied the game 2-2 early in the third period, but Kaden Pothegadoo scored what turned out to be the game winner, assisted by Smith and Ocampo, then added an insurance goal, assisted by Ocampo and Smith to make the final score 4-2.
Tyce D'Agnone earned the win in net, making 19 saves.
Those results sent Claresholm into the final where they defeated the Chiefs to win the tournament.