Claresholm museum opens for another season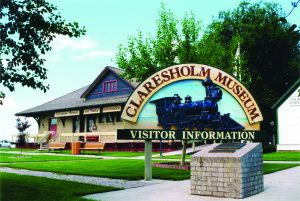 By Rob Vogt
When the Victoria Day May long weekend comes around it signals another event – the opening of the Claresholm and District Museum.
The museum opened its doors to the public for another season at 9 a.m. on Friday, May 19 and its season runs until Sept. 1.
It will be open five days a week, from Tuesday to Saturday, from 9 a.m. to 5 p.m.
"We're excited about re-opening," said Bill Kells, executive director of the museum.
Currently, there is one summer student on staff, and the search continues for a second one.
Jordyn Wallace returns to do communications, marketing and tourist information. She is working in the station building on Highway 2 and will greet all visitors.
The open position is an education program coordinator, who will do school tours of the museum in June. After that they will do special events, and welcome groups and bus tours.
Ali Hemmaway is also on staff performing a variety of functions, and currently is working in the exhibit hall where she can greet visitors.
The museum consists of several buildings including the 1912 train station, an exhibit hall, schoolhouse, log cabin, and train caboose.
It has 8,000 square feet of display and exhibit space.
"It takes you through the history of Claresholm," Kells said.
The museum does that through displays beginning with the First Nations and proceeding through businesses, the airforce training base, firefighting, health care and more.
They draw on a collection that has been built since 1969.
The next major exhibit, set to open in a 20-feet by 20-feet space in 2024 is on agriculture in the area.
Looking ahead, the museum will have a Father's Day car show on June 18, welcoming the Porcupine Classic Cruisers vehicle club, and offering a breakfast by the Claresholm Lions and beef on a bun at the Claresholm Social Centre.
Fair Days, the second weekend in August, will once again feature lemonade on the lawn at the museum as well.
Kells said the facility truly is a community effort.
"Our volunteers are doing such an amazing job," he said.
Much of that work is behind the scenes, such as in the rose and perennial gardens on the museum grounds.
Kells invites everyone to come and see what the museum has to offer.
"Even if the museum is closed on a Sunday, come down and look at the gardens," he said.