Schnell named economic developer of the year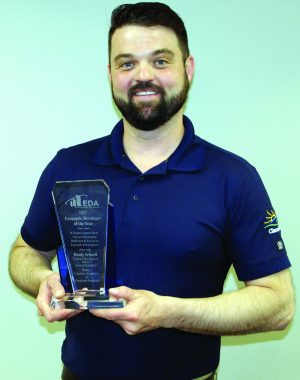 By Rob Vogt Local Press Writer
Claresholm's Economic Development Officer has been recognized as the province's best.
At a ceremony in the Kananaskis in April, Brady Schnell was named Economic Developer of the Year by Economic Developers Alberta.
"I was very surprised," Schnell said. "There were some really impressive award winners at that conference.
"I was genuinely surprised (to win)."
Schnell was recognized for one very special reason.
"I've grown the department by grant funding and partnerships," he said.
One partnership is with the Claresholm and District Chamber of Commerce.
Economic Development partnered with the chamber of commerce to hire a shared staff person, a role filled by Sheila Karsten.
"We (then) tapped into Community Futures (Alberta Southwest) COVID relief funding," Schnell said.
The project has solved issues for both partners.
The chamber now has their first ever staff person. Economic Development now has a consistent staff person. Until now, they have only used summer students, which were essentially seasonal staff.
"It built the capacity of the chamber and Economic Development," Schnell said.
Another partnership has been with the Welcoming Claresholm project, whereby Schnell's efforts attracted $296,000 from the provincial government ministry of labour and immigration.
It has resulted in two new staff members – a diversity coordinator, Char Koch; and an engagement coordinator, David Poulsen.
Growing the department from one person to having three staff has been accomplished with grant funding and next to no financial impact to the Town of Claresholm.
"We're accomplishing more," Schnell said.
This partnership has also brought settlement services to the community in the form of Willow Creek Immigrant Servicers, something that previously did not occur.
Over the past two years close to 120 clients have been served, people Schnell noted, who were already living in the community.
He also commends Chelsae Petrovic, Claresholm's new mayor, and Abe Tinney, the community's new chief administrative officer.
"They led the nomination," Schnell said.
Letters of support for the nomination also came from the chamber of commerce, and Calgary Catholic Immigration Society, and testimonials from the community were submitted as well.
"I appreciate the support," Schnell said.
"None of this would be possible if town council didn't support an Economic Development Committee or an economic development portfolio," he later added.
Now it is on to the next thing.
"We're looking ahead at our next projects," Schnell said.
He has pitched another partnership idea to the chamber for another labour market partnership grant, something the two were successful on previously, and Willow Creek Immigrant Services has outgrown its space and is looking for a bigger location.
Schnell said he is looking forward to information on grants coming out this summer.