No injuries in New Year's Day fire on First Street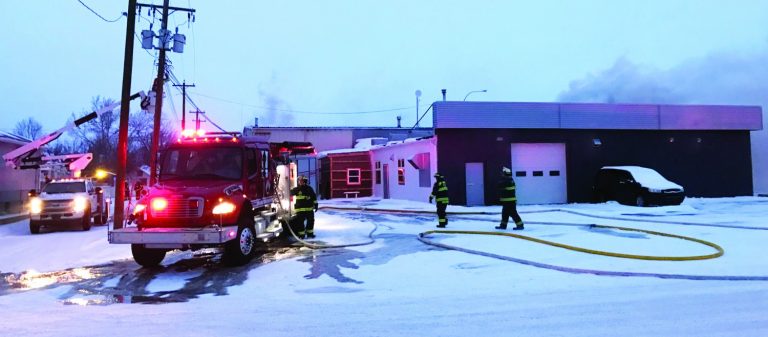 By Rob Vogt, Local Press Writer
There were no injuries when fire broke out on New Year's Day at a commercial property on First Street and 46th Avenue in Claresholm.
The Claresholm Fire Department responded at about 4:15 p.m. after reports of smoke billowing out of the building.
Chief Craig White said initially it looked as if the entire building was engulfed, but crews were able to contain the fire to the north end of the building.
White also activated mutual aid agreements, so all fire departments from the Municipal District of Willow Creek – Stavely, Nanton, and Fort Macleod – also responded.
Crews were on scene until about midnight then back again Sunday morning for flare-ups and scene clean up.
Crews from Fortis and ATCO were also on scene to cut electrical and natural gas services, which is standard procedure.
Volker Stevin provided traffic control on the highway, and the Town of Claresholm public works crew assisted in removing the building facade, saving firefighters time and energy.
No cause has been determined as the fire is still under investigation.
White wanted to extend his appreciation to all the fire departments who assisted as well as the utility companies, highway contractor, and public works crew.
In an interesting coincidence, Claresholm's 2022 New Year's Day fire was in the same building as the Dec. 2 fire in 1972 at Henson Motors Garage.