Event aimed to stomp out stigma around mental illness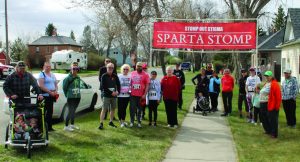 By Rob Vogt Local Press Writer
It was a chance to raise awareness and funds for a good cause – mental illness and the stigma surrounding it.
Sparta House held their second Sparta Stomp, a five-kilometre walk around town on Saturday, May 7.
About 30 people participated in the walk, raising $3,323 for Sparta House's recreation program.
The message for participants just before the walk began was simple.
It was Mental Health Week, and statistics show that virtually everyone taking part in the week was touched by mental illness.
However, people may not know that because of the stigma that still surrounds mental illness, and the reluctance stigma creates for some to talk about it.
That is in part why mental illness can be isolating.
It was noted Sparta House is a place that is member-driven where its members can go to get rid of some of that isolation.
It is a place to regain confidence, develop skills and build meaningful, supportive relationships.
The Sparta Stomp also served as an open house, so participants were invited to go inside Sparta House and see what it had to offer.
At various stops along the route, participants could also read facts about mental illness, perinatal mental health, and First Nations mental health as well.
The 2022 Sparta Stomp was the first since the inaugural event in 2019.
It was cancelled the past two years to help prevent the spread of the COVID-19 virus.