Drop-in centre hosts annual general meeting; elects new board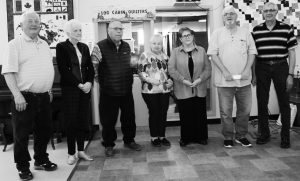 By Rob Vogt Local Press Writer
It was an eventful year at the Claresholm Senior Citizens' Drop-in Centre.
Outgoing President Delma Austin reflected on the past year at the centre's annual general meeting on March 31, which attracted about 30 people.
Austin pointed out several highlights.
Town of Claresholm
The centre requested a representative of town council for their board.
Council agreed, appointing Coun. Kandice Meister who attended her first meeting on Jan. 6.
The centre also reviewed and approved a new lease agreement with the Town of Claresholm for the centre itself, which is a town-owned building.
Meetings
A lot of regular and special board meetings were held throughout the past year as well.
In December, they looked at the future of the centre, and have had a number of community planning meetings.
The next one is April 20 at 7 p.m. at the centre. Austin invited everyone to come out and bring their ideas.
Inventory
An inventory of the centre's assets is under way, and Austin said she will tackle that as soon as she is past president.
Board
The board lost three members throughout the year, who resigned at various times due to personal reasons, and replacements did step forward.
Austin stressed personal health has to come first.
Operations
The centre has attempted as well, to move from having an operational board, which does everything, to a governance board, which oversees the centre.
Austin said the transition has not been seemless, especially with the death a few months ago of the centre's manager.
"Someone has to do the work," she said.
Re-branding
The centre has also undertaken a re-branding, to expand the facility's scope to everyone in the community.
"I personally don't want to see this place fold ever," Austin said.
Activities
Since then, a number of activities have started at the centre.
They hosted a Valentine's Day Tea and a Family Day fun day, as well as coffee, yoga, a monthly jam session, cards, and pool. The centre is open three days a week too.
Communication
The centre is also using all kinds of forms of communication including e-mail, posters, the newspaper, a monthly newsletter and calendar, and more.
Austin said the more people who get involved the more successful the centre will be.
Board election
The centre also elected a new board:
• President, Bonnie Atkinson;
• Vice-president, open;
• Treasurer, Jim Borthwick;
• Secretary, Phyllis McKinnon;
• Directors, Ron Atkinson, Candy Brown, Dena Carlson, Ian Good,
Val Kjarsgaard, and Ken Mackin.