Council hears request to approve Junior 'A' hockey franchise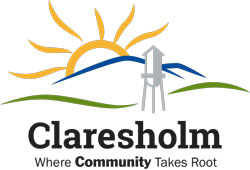 By Rob Vogt Local Press Writer
The Greater Metro Hockey League West wants to locate a franchise in Claresholm as early as the 2022-2023 season.
Dr. Derek Prue, director of expansion for the league, appeared as a delegation via video conference at the Jan. 10 meeting of Claresholm town council to discuss the league, a potential franchise, and to answer questions.
He began by discussing the league which has been in existence 18 years. It started in Greater Metro Toronto and spread across Ontario and into Quebec.
Three years ago a western division was created, with their area being the three western provinces.
Since then, it has been concentrating on northern Alberta, and growing into northern B.C.
Now, the league is looking to expand south, in a market that is untouched, and Prue is excited to
locate in the footprint of Claresholm moving forward.
The league is one of five in Ontario like it, who all follow the academy model which is based on the U.S. college or European-based pro model.
The level is Junior "A" hockey where the players are full-time athletes, with many still students. Roughly one-third will still be in high school with the rest 18 to 20 years of age.
Players will come from around the world with an average of six Europeans players, and the rest from across Canada and the U.S.
The team is for a player who wants a full-time program. For them it is not an end to their hockey career but a stepping stone to the next level.
Prue said they make sure these young men develop on and off the ice and open opportunities for them to move forward.
He noted in the 18-year history of the league, they have sent more than 900 players to every level of professional and collegiate hockey.
Prue said they are looking for 1.5 hours of ice time daily, but will take it in the 8 a.m. to 3 p.m. range.
"The guys will be on the ice every day," he said.
League games are on the weekends. They play a 42-game schedule, with 21 home games that are primarily Friday and Saturday evenings.
Prue pointed out there are fewer games than other leagues.
Coaches love the format because they have four dedicated days every week, Monday to Thursday, to have their players on the ice. They also do not have to worry about travel.
"We find it's a really good way to develop these young men," Prue said.
The players will also get involved in the community. One example is a snow-angel program where they shovel sidewalks for those who may need assistance.
"In some Junior 'A' programs the players become a fabric of the community," Prue said.
The goal is to get the players out of their comfort zone. A lot have not had a chance to do public speaking or mentoring.
"We want them off the ice doing other things," he added.
They will also like to get involved with minor hockey.
Players will live with billet families. Some become part of the family, and even stay in the community in the off-season and find work.
When they sign their contract, part of it is a code of conduct which includes zero tolerance for drinking or drugs.
"It's a pretty well-oiled machine we have going," Prue said.
He then turned his attention to next steps.
Prue said they do not come to a community looking for capital investment. Instead they vet the community so it meets their demographic needs, and rink requirements.
Once that is done, they will enter into lease discussions.
One of their needs is a private dressing room, because players are there pretty much every day and would like a place for their equipment, training, and staff.
Prue noted there are several ways to make that happen.
They are also looking for the ability to get an Alberta Liquor Gaming and Cannabis licence to sell alcohol at games. However, they do not typically go after concession revenue because facilities will normally have someone already in place with a user group, non-profit group or minor hockey.
Prue said the hope is to get three teams in the footprint of Southern Alberta.
Coun. Rod Kettles asked what ownership and management of the team would look like?
Prue said it takes different forms.
The league will come to negotiate. Ultimately, they will look for local partners or outside groups to come in. The league does not want to own all the teams, but it has and will be the owners of franchises. Currently the league owns all or part of two of the seven teams out west.
Typically they will start the franchise and get the ball rolling.
"We know what it takes to be successful," Prue said.
As for a general manager and head coach, Prue said the league pulls from all over he world. There are few paying jobs like this.
"We do have a good stable of people," he said, adding the positions will be full time and they will re-locate to town.
Kettles said the arena has five dressing rooms. One that used to be used by the community's senior hockey team when it had one, is more advanced. He said it needs some work, but the town is not sure the town is interested in paying for that, so what kind of partnership would there be?
Prue responded they don't come with huge expectations, but would like the ability to renovate. They do come prepared to do what they need to get to the standard they need.
He observed in Junior "A" they have seen all kinds of dressing rooms and just need one that is big enough with enough stalls and the ability to spruce it up.
He added the team can make the dressing room available when the team is on the road. In his experience, young players feel special when they can go into or use the Junior "A" room.
He later added the league can also offer skills camps in communities that may not have them in the lead up to the season.
Coun. Brad Schlossberger asked if Prue had actually looked at the Claresholm Arena?
Prue said he personally had not, but Brad Morgan, the league's point of contact, has been there several times.
Morgan was a scout at the Western Hockey League level for more than a decade, has seen every rink you can think of, and has personal knowledge of the Claresholm rink.
Certainly in the near future, Prue added, a site visit would be conducted.
Kettles then asked about referees for the league. He wondered because it is not a Hockey Canada league, if that would limit their ability to draw refs.
Prue replied that 80 to 90 percent of their officials work Hockey Canada simultaneously, and it is really a non-issue. He added teams pay about $6,000 in referee travel and every game has at least one official who travels two or more hours.
"We pull refs from all over," he said, adding the league has a formal training program for its referees.
Kettles asked if Prue could provide community references from Gibbons, which has a franchise, or elsewhere, to get some sense of what this looks like. Is the business of the team being run well, are the bills being paid, and is the team being maintained?
Prue said he can provide two letters of reference from mayors but will also provide contact names and numbers of people in the community.
Coun. Kieth Carlson asked how many season tickets would have to be sold to keep the team sustainable?
Prue said the target is 150 to 200, but there is a wide range across franchises.
Schlossberger asked if the team provides security in the arena with liquor sales.
Prue said they provide one person for every 50 people as per AGLC rules, and all have their ProServe and ProTect training. They will have people well in advance who know what the expectations are.
Council does not make any decision on any request made by a delegation at the same meeting the request is made.
Consequently the matter will be on a future agenda of council.