Conservative leadership hopeful in Fort Macleod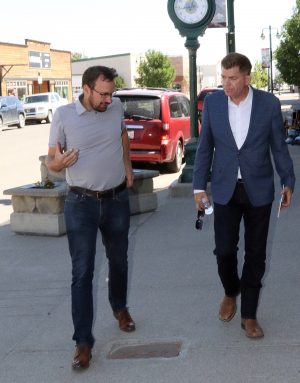 By Lawrence Gleason Local Press Writer
United Conservative Party (UCP) leadership candidate Brian Jean took his campaign to Fort Macleod on Saturday, Aug. 6.
Of the three leading candidates in the leadership race, polls have placed Jean running neck and neck with candidate Danielle Smith, the first former leader of the Wildrose Party. Brian Jean was the second Wildrose leader and also the last leader of the party before its merger with the Progressive Conservatives to form Alberta's UCP.
Jean and Smith are polling slightly ahead of the third place polling candidate Travis Toews, MLA for Grande Prairie-Wapiti and Alberta's finance minister for three years.
Trailing in the race are Rebecca Schulz, Todd Loewen, Rajan Sawhney and Leela Aheer.
"It depends what day and who's doing the poll," said Jean, 59, a lawyer and the member of the Alberta Legislative Assembly for Fort McMurray-Lac La Biche.
Jean and Fort Macleod Mayor Brent Feyter walked the Fort Macleod downtown while Jean asked questions about the town and town businesses.
Jean had just had a campaign stop in Cardston and after Fort Macleod would spend the rest of the day campaigning in Lethbridge, to be followed by campaigning in Calgary the following day.
"We are trying to elect a person who can beat Rachel Notley, and that person is me," said Jean. "People better think when they cast their ballot. Some people in this race are saying things that could make the UCP unelectable in the next general election. They better think about that when they cast their ballots. If they pick the wrong person Rachel Notley wins."
Jean listed the reasons why he believes he is qualified to be premier.
"I've practised law for 10 years, I've been a businessman for 30 years, I've been a member of parliament for 10 years, I was parliamentary secretary for six years, I was leader of the opposition, an MLA for three years. I've got political experience, business experience, and legal experience. I am right for this job."
The Fort Macleod campaign stop was at the Holy Cross Parish Hall. As there weren't any supporters waiting for Jean and Mayor Feyter walked Fort Macleod's iconic and much-photographed 24th street, while Jean asked about the town and its businesses.
After that Jean waited at the parish hall for people to approach him, before moving on to Lethbridge.
Health care is a concern, Jean said.
"Hospitals in my constituency are closing down on weekends. We have a health epidemic. We have a mental health epidemic and nobody's talking about it, and nobody's doing anything to fix it. We have to do something and we have to do it right away. The leadership model for AHS (Alberta Health Services), we have to change it dramatically."
Jean said the main message of his campaign is about autonomy.
"It's all about personal autonomy, financial autonomy, community autonomy, religious autonomy, and more autonomy for Albertans within Canada. Autonomy means freedom and to make the kind of decisions you want to make based upon what your priorities are. I think that's why we are here in Alberta, to have freedoms. That is my message to people. If you want your freedoms restored and ingrained like never before, elect Brian Jean."
The cut-off for UCP membership is on Aug. 12.
The UCP membership across Alberta will cast their ballots to decide upon their new party leader, who will automatically become the next Alberta premier. That vote is scheduled to begin in early October.
The next provincial election is expected March 29, 2023.