Bike, car, truck show returns after two-year absence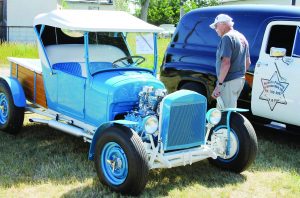 By Rob Vogt Local Press Writer
After a two-year absence, the second annual Granum Vendor, Bike, Car and Truck Show returned with a vengeance.
The area behind the Old Jail and Museum was packed with more than 30 vendors, about 30 motorbikes, and a multitude of vintage cars and trucks on Saturday, Aug. 6 for the show.
It was co-hosted by the Granum Historical Society and RISE ABOVE Community Supports and Mental Health.
John Connor, of the historical society, said the society received $3,500 from the Granum community board for the show and Remembrance Day activities, as well as funding from Family and Community Support Services to recognize volunteers.
"It's to promote the town, it's an economic development initiative," he said of the event. "(And) promote tourism of the town."
"We want to bring the community together," said Mike Sherman of the historical society, adding they wanted to support local business and raise funds for the museum and veterans memorial located next to the museum.
RISE ABOVE is an organization of motorcycle enthusiasts who advocate for mental health.
Their spokesperson was Phoenix Kathleen Lacombe who said they helped with the first show in 2019.
"Now we've just teamed up and do this together," she said. "And we're going to keep doing it."
The theme this year was "The roaring '20s", and next year it will be "The fabulous '50s".
"We're always looking for new members as well as any way we can support our communities," she said.
More information on Rise Above is available on their Facebook page, "RISE ABOVE Mental Health & Community Supports".
The day featured vendors; a food truck; the bike, car and truck show; a bouncey castle from Faith Community Baptist Church in Claresholm; prizes; and a 50-50 draw.