Claresholm skating coach lends skill to HBO Max special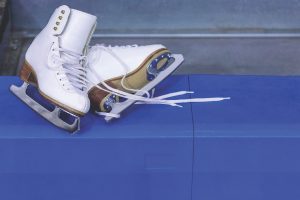 By Kelsey Hipkin – Local Press Writer
What started as a lifelong passion, turned into a taste of Hollywood for Claresholm skating coach Keanna Nelson.
This past summer Nelson was contacted by a friend working on an HBO Max television show sharing the stories of the popular children's toy American Girl. The TV special in question features Corrine Tan – the 2022 American Girl of the Year.
"Jordan (Uhl) was working on the show and had texted me that they needed a figure skating choreographer to come up with a figure skating routine in the episode," said Nelson. "So I took four days off of work and created a routine and was in Calgary helping behind the scenes."
Nelson started skating at the age of four with the Stavely Skating Club. At the age of 16, she took the Canada Skate Certified Course to become a skating coach and spent the next two years coaching between Stavely and Claresholm.
After graduating high school, Nelson left Claresholm for college and work, but returned home four years ago and took up coaching once again. A Regional Skate Canada Coach, Nelson is currently the only skating coach in town, coaching PreCan, CanSkate, and StarSkate with the ages of her students ranging from four to 13.
"I just love being able to see what all these kids have, (to) see the joy in skating…being able to pass down even knowledge I've learned from past coaches," she said. "(To) see kids get excited about learning and skills or being excited they mastered a skill is really rewarding."
The working title of the special Nelson participated in is American Girl: Corinne Tan and was filmed in its entirety in Calgary. Corinne Tan is the first American Girl of Chinese descent, and the special will follow her navigating her parents' divorce while challenging herself to train her puppy Flurry as a rescue dog.
"It was pretty cool, just to see all the equipment (the film crew) uses, and just being in that environment with directors saying 'cut' and 'silence'," Nelson said. "Just to film a six-minute scene took like 12 hours…it's a lot of repetitiveness at getting those shots and angles."
The special is directed by Angela C. Tortu, who also has directing credits on the popular ABC show Fresh Off the Boat. Nelson worked with Tortu during the skating scenes to ensure the choreography went as planned, and her name will be included in the show credits.
American Girl: Corrine Tan is scheduled to premier this December.