Claresholm man first graduate of Lethbridge drug treatment court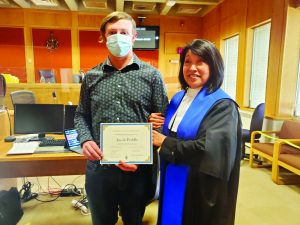 By Rob Vogt Local Press Writer
Facing incarceration for drug trafficking charges, Claresholm's Jacob Peddle had one choice if he did not want to go to jail – drug treatment court.
So he took that choice, and it has changed his life.
Recently Peddle, who was the second participant in the Lethbridge drug treatment court program, became its first graduate.
It all started on April 12, 2020 at approximately 5:45 p.m. when the Claresholm RCMP conducted a traffic stop on Eighth Street West in Claresholm.
Peddle, 18 at the time, was the driver and sole occupant of the vehicle, and was arrested and held for investigation.
A search resulted in the Claresholm RCMP seizing 30 grams of cocaine, 16 grams of methamphetamine, that is crystal meth, various drug trafficking items and paraphernalia. Peddle was charged with possession for the purpose of trafficking both cocaine and methamphetamine.
With the prospect of likely two years in jail, Peddle was offered the opportunity to attend drug treatment court.
Participants have to plead guilty, submit to drug testing and participate in judicially-supervised treatment throughout.
"It was really challenging," Peddle said.
He had to move to Lethbridge where the program had several phases including recovery meetings, a residential treatment program, and counselling.
"It was very difficult," Peddle said.
"It is a very personalized experience," he said, noting that each participant receives supports unique to him or her.
However, there was some group programming, and Peddle and other participants went to a lot of the same places.
"You definitely build that community aspect," he said.
During treatment, he came face-to-face with his addiction.
Peddle was addicted to meth for about three years, from the ages of 16 to 18.
"I struggled with meth really badly," he said.
That led to theft and selling drugs.
"A lot of the crime I did was to support my habit," he said.
"I was hanging out with the wrong people and doing bad stuff (and that's) why I had to go to drug court," he added.
On Wednesday, June 1, Peddle attended a graduation ceremony at the Lethbridge Courthouse with his family and friends.
Now, he is on a one-year probation.
He has to check in once a month with his parole officer; make court appearances every three months for a year; and submit to random drug screening.
Peddle now has a steady job, is engaged and he and his fiancé are expecting their first child in November.
"I'm going to focus on family and work on my career," he said.
Peddle is also grateful for drug treatment court.
"It is a great program," he said.
"In a way I'm proud to be the first (graduate)," he added, noting he is paving the way for other people. "I really like that."
However, Peddle cautions drug treatment court is not easy or for everyone, and participants have to want to change.
"It's for sure not a get out of jail free card," he said.