103-year-old veteran visits Claresholm museum, airport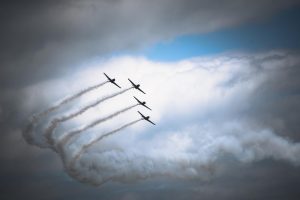 By Rob Vogt – Local Press Writer
During the Second World War, pilots could not train close to their homes.
That is how Jim Ashworth, a native of Invermere, B.C, found his way to Claresholm.
He trained as a pilot at the training base west of town in 1941, before he was posted to Europe where he served as an instructor and squadron leader with the Royal Canadian Air Force.
Ashworth, now 103, returned to Claresholm on Sept. 22 to donate a picture signed by the Duke and Duchess of Windsor. They were visiting the No. 15 Service Flight Training School on Oct. 5, 1941 at the graduation of Class No. 34.
The Duke and Duchess of Windsor, Edward VIII and Wallis Simpson, also signed the photo.
Ashworth also donated the book "Canada's War in the Air", by Leslie Roberts, published in 1943, and lent the museum his log book, to take information from. It covers his training days and beyond.
Bill Kells, executive director of the Claresholm and District Museum, was on hand to accept the donations.
"It's a pleasure and an honour to have him come be here with us today," he said.
The museum has an exhibit including Ashworth, that has an interview with the veteran himself.
He came to see the exhibit but also to bring the photo.
"Let's get this down to Claresholm where it really belongs," he said.
Ashworth also talked about his time in Claresholm.
He was in high school in Inveremere when he decided to join the air force.
He went to Calgary in 1940, where he was told there wasn't much for him.
Then on Jan. 4 he got the call.
"I was told I better get to Claresholm," he said.
He remembered the high winds on the runway. One time during training, a pilot flew an Anson into a storm where part of the plane was blown off, but the pilot managed to bring the plane in.
He also remembered night flying in Granum, and the camaraderie.
"It's a very strong sense of family," he said.
"The camaraderie with all the people I met was something else," he later added. "It turned out very well."
He was also impressed with the museum and exhibits.
"It's a wonderful situation," he said. "I like to live positively.
"I'm grateful to be here meeting with you all."
Ashworth wants to preserve and remember the history and the sacrifice of so many who gave their lives at such a young age.
"To give people an idea of what happened to so many guys at that age," he said.
There is also something people can take away from that history.
"I hope it's a strong reminder we have to get out of this terrible mess we're in," he said, referring to the Russian invasion of Ukraine.
Earlier in the day he had visited the Lancaster Bomber Museum in Nanton, and following his tour of the Claresholm museum, went out to the Claresholm airport.
Jim Ashworth, 103, trained as a pilot at the Claresholm air force training base during the second World War, in 1941. He was in Claresholm on Sept. 22 where he paid a visit to the airport and the Claresholm and District Museum. Here he is at far right with Bill Kells, executive director of the museum, checking out an exhibit on Claresholm during the war years, while Ashworth's daughter Valerie looks on. Photo by Rob Vogt