Zimmer named Claresholm 2020 junior citizen of the year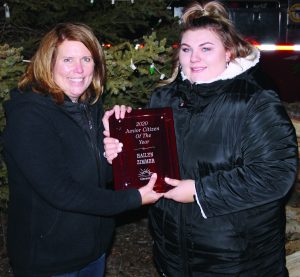 By Rob Vogt
Local Press Writer
Hailyn Zimmer has always lent a helping hand wherever she could throughout the community.
For her contributions, she was named Claresholm's Junior Citizen of the Year at the Old Fashioned Christmas in downtown Claresholm on Friday night, Nov. 26.
Zimmer was initially to be presented the award at the community's Volunteer Appreciation on April 22, but those plans changed when the event was cancelled to prevent the spread of the COVID-19 virus. It was re-scheduled for Sept. 22, but again the Volunteer Appreciation was cancelled due to the pandemic.
Zimmer's nomination, outlines what she has given back to the community.
"Hailyn has so many great qualities. She is kind, caring, loving, funny and a blast to be around. She is always willing to help anyone, no matter what it is. There are many things that Hailyn has helped/volunteered in around the community.
"First of all, a lot of people know her for helping in skating. She started volunteering in the Skating Club in 2013 as a Tiny Tot helper. Then moved onto being a CanSkate Program Assistant in 2014 to 2020. Also a STARSkate Assistant in 2019-2020. Not only was she volunteering at those times, but she was also skating in her own lessons. Which lead to volunteering with the Claresholm Skating Club carnivals doing set up, decoration design, and take down for their carnivals.
"Along with skating Hailyn also dances. She started out as a teacher's helper for Skye-Anna School of Highland Dancing in 2018, and then became a certified teacher in 2020. She continues to dance and teach.
"She also has played a big role with SUCH Drama. She was the head of the hair department at the most recent production and previously assisted with hair and makeup for three other productions that they have held. She also has volunteered doing make up for three Zombie walks, and hair for three Claresholm Arts Society productions. Hailyn received an 'Outstanding Achievement in Cosmetology' award in 2019 as well (from her school).
"Hailyn graduated this year and volunteered on the Grad committee. She is very community based and volunteers at many functions that happen around Claresholm. She volunteers during Fair Days at the Parade Food Drive and Parade Judging. Some other areas that Hailyn volunteers at are soccer, Chamber (of commerce) events, Feast of Claresholm, and many more.
"Hailyn has received the COBRA award for being a good role model within the school; and the CUPE Local award for being a well rounded and model student.
"Hailyn is currently working at the Kidz Zone and has achieved her Level 1 Early Childhood Educator certification, which she completed online.
"In her little spare time Hailyn loves to babysit. She is amazing with children and has been known to refuse money because she just loves being with the children."