Students learn about animals, Report A Poacher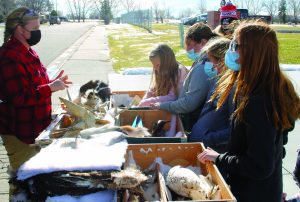 By Rob Vogt
Local Press Writer
Students at Stavely Elementary School
recently learned more about the animals in their area and what to do if they see someone break the law when they hunt or fish.
Sarah Marthaller and Allison Selsing, of the Alberta Hunter Education Instructors' Association, paid a visit to the school on Nov. 3.
They brought a trailer with them filled with materials on animals in the area.
Marthaller said the outdoor trailer is good for social distancing and she and Selsing provide a general introduction to the wildlife around us.
"All these animals we see live amongst us," she said.
It is also a chance to know species to be able to identify them when hunting and know what they can and cannot hunt.
Moreover, with the pandemic and measures to prevent the spread of the COVID-19 virus, students have not been able to go on field trips.
The trailer and all the skulls, furs, stuffed birds, and other items in it, help students have a hands-on experience at the school.
The trailer is considered a museum which Marthaller said means the students can touch everything.
It was also an opportunity to introduce students to Report A Poacher.
"It's something you can do when someone's not following the rules," Marthaller said.
That could mean catching too many fish or the wrong sized ones; or hunting on land without asking permission.
"We're bringing awareness that there are rules," Marthaller said.
Report A Poacher can be accessed by phoning
1-800-642-3800 or visiting reportapoacher.com.