'Spread the World' descends on downtown Amundsen Park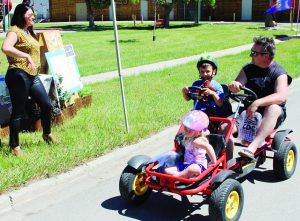 By Rob Vogt, Local Press Writer
It was a perfect day to take a little tour of the world – right here in downtown Claresholm.
The Welcoming Claresholm Committee hosted "Spread the World", a drive-through event in Amundsen Park on Sunday, June 13, featuring booths from five different countries.
"It's a multicultural event hosted to bring awareness to the community of the diversity that exists here," said Susan Kolpak-Jarvis of Willow Creek Immigrant Services, one of the partners on the committee.
The five booths, representing South Africa, Belgium, the Philippines, Ukraine, and Canada, were located around the perimeter of the park where visitors could drive by and, at a safe physical distance, see clothing, information, food and facts from the different countries.
Lisa Degenstein of the Calgary Catholic Immigrant Society, which oversees Willow Creek Immigrant Services, said the event is intended to build capacity in the community. That starts by creating awareness.
"(Awareness) about the diversity that exists here," Kolpak-Jarvis added.
One of the highlights was art created by students from the art class at Willow Creek Composite High School who made maps showcasing each country.
West Meadow Elementary School students were encouraged to make a flag from their own country of origin as well. A total of 50 students, representing about 22 different countries, submitted entries that were also posted at the event. For their efforts, one of the students will win a new bike.
"That's been great for students to explore their roots," Degenstein said. "Something like this gets the conversation started."
She also said the Rural and Northern Immigration Pilot project is connected to this event as well, noting the project is intended to meet the economic needs of the community.
In the process, it will bring in 20 newcomers and their families, adding to the diversity of the community.
"This (event) could look very different next year," Degenstein said, because of those newcomers.
Ric Morales, also of the Calgary Catholic Immigrant Society, said this event is only the beginning.
The first year is about awareness and creating curiosity about what diversity exists in the community.
He pointed to people passing by and looking to see what was going on in the park. Some even stopped to see what the event was all about and ended up taking a tour of the booths.
"I call this 'the awakening'," Morales said.
"Two years from now – I'd love to see it."
The event utilized 21 volunteers and was put on by Willow Creek Immigrant Services, Welcoming Claresholm Committee, the Calgary Catholic Immigrant Society, Claresholm and District Chamber of Commerce, Claresholm and District Family and Community Support Services, and Claresholm Economic Development.