Petrovic elected mayor; four returning, two new councillors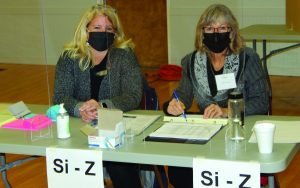 By Rob Vogt, Local Press Writer
Chelsae Petrovic will be sworn in as the next mayor of the Town of Claresholm.
In Monday night's election, the 32-year-old nurse received 828 votes to defeat the current mayor Doug MacPherson who got 624 votes.
There will be two new faces on town council as Rod Kettles and Kandice Meister were elected.
They will be joined by four incumbents – Kieth Carlson, Mike Cutler, Brad Schlossberger, and Craig Zimmer – who were all re-elected to a second term on council.
The final results were:
• Mike Cutler, incumbent, 1,026 votes, elected;
• Craig Zimmer, incumbent, 1,026 votes, elected;
• Brad Schlossberger, incumbent, 1,017 votes, elected;
• Kieth Carlson, incumbent, 963 votes, elected;
• Rod Kettles, 927 votes, elected;
• Kandice Meister, 912 votes, elected;
• Gaven Moore, incumbent, 749 votes;
• Jamie Cutler, 534 votes.
Voter turnout was estimated at 46 per cent of eligible voters.
Municipal District of Willow Creek
In the Municipal District of Willow Creek, there were three divisions electing councillors.
In Division 2, incumbent John Kroetsch won a third term with 191 votes, while challengers Allan Minor had 141 votes and Darryl Campbell had 33 votes.
In Division 4, which includes the area west of Claresholm, incumbent Glen Alm will serve another term after receiving 124 votes, while challenger Grant Hoffman had 113 votes.
In Division 5, Early Hemmaway won with 101 votes, defeating incumbent Darry Markle who had 92 votes.
Hemmaway held that seat for 25 years before Markle defeated him in 2017.
Acclaimed were John Van Driesten in Division 1; Maryanne Sandberg in Division 3; Evan Berger in Division 6; and Ian Sundquist in Division 7.
Stavely
In the Town of Stavely, sitting Mayor Gentry Hall was acclaimed to another four-year term.
All six incumbent councillors were re-elected.
The final results broke down as follows:
• Tim Martin, incumbent, 150 votes, elected;
• Ramona Whittingham, incumbent, 150 votes, elected;
• Michael Varey, incumbent, 147 votes, elected;
• Dale (Friday) Gugala, incumbent, 139 votes, elected;
• Janice Binmore, incumbent, 135 votes, elected;
• Don Norby, incumbent, 107 votes, elected;
• Monte Yanosik, 92 votes.
Elections Alberta announced the results of the referenda and senator-in-waiting elections will be announced on Oct. 26.