Long-time social studies teacher retires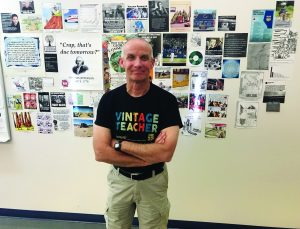 By Rob Vogt, Local Press Writer
For one of the first times since he was five years old, Tim Bryson's life will not be governed by a school calendar.
After 32 years teaching, 25 of them at Willow Creek Composite High School, Bryson is retiring.
"It was time," he said.
Bryson, his wife Brenda who was pregnant with their daughter Erin, and daughter Janna arrived in Claresholm in August of 1996, after seven years in Rainbow Lake.
Bryson started teaching in the fall of 1996 and proceeded to teach social studies at all levels as well as junior high math and whatever else he was assigned by administration.
He also started coaching track and field.
"That was my big extra-curricular at the time," Bryson said.
Then, in the winter of 1997, his life changed forever when three students – Kelly Starling, Trevor McDavid, and Jay Penner came to him and fellow teacher Rob Charchun.
"They had this crazy idea to start a football team," he said.
They agreed to promote the team in the school while parents and volunteers such as RCMP Member Louie Casale did the leg work to find equipment, do fundraising and everything else necessary.
The team started in the fall of 1997 and, as with all ventures that start, did not win much.
"How little we knew back then," Bryson said, adding it took years to build coaching knowledge.
With that, the coaching staff also took shape. Todd Lybbert arrived in 2003; Starling arrived in 2005; Kelly Fowler in 2008; and Scott Fairs in 2014.
Since then, the team has won three provincial championships, been to the provincial final four more times, Bryson was twice named coach of the year, and Starling is the reigning coach of the year.
"We work really, really well together," Bryson said. "That explains a lot of the success."
The key was continuing to learn.
"Two or more of us never missed a coaching clinic," Bryson said. "We pursued knowledge relentlessly."
He will keep on coaching now even though he has retired from teaching.
Bryson has also seen a lot in his 32 years, but some highlights do stand out.
"Watching students grow intellectually, emotionally," he said. "Accomplishing things you didn't think they are capable of, when they got here they didn't think they were capable of.
"It keeps teachers humble."
He cited as an example an English language learning student who worked and worked and passed a diploma exam that, two years earlier, did not think was possible.
"You just don't give up on them," Bryson said. "That's the most rewarding."
In particular, over the past year and a half, the pandemic and the various measures to prevent the spread of the COVID-19 virus have posed challenges.
"In that last year these kids have shown amazing resilience," Bryson said.
He pointed specifically to the situation right before the third wave of the pandemic when everyone knew it was coming, which led to a lot of stress.
"The lead up to that was hard," Bryson said. "The unknown was really hard."
Moreover the staff has also been adaptable, resilient and nimble.
"The staff has done incredible work over the past year," Bryson said.
He commended the work of everyone, from students and parents to staff in adapting.
"The efforts we made adapting to a new reality were the most satisfying," he said.
Overall, Bryson is left with one last thought.
"The most satisfying thing is watching the growth," he said. "It's a new challenge every year.
"Just knowing these young people can and will get where they want to be.
"And that's really satisfying.
"Finding a way to help them succeed."
Moving forward, Bryson is looking at taking advantage of certifications he has earned in strength and conditioning.
Until then, he plans to take the advice of a colleague who retired some years ago, who made a specific suggestion for the first day back to school.
"Be doing something you like," he said.