Local woman wins $100,000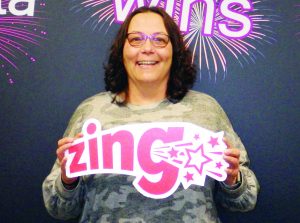 Good Fortune!
By Rob Vogt, Local Press Writer
It was Teresa Collins' lucky day.
On June 4, the Western Canada Lottery Corporation announced the Claresholm woman had won $100,000 on her "The Royals Zing" ticket. It noted she has developed a new appreciation for the number 9 because she won the game's top prize on her ninth hand, with a hand full of nines.
"It all feels so surreal," she said in the announcement. "I'm just so elated and happy."
She plans to share her winnings with her family and use some of those winnings to pay bills, and pick up a new washing machine and a new car.
Collins bought her winning ticket at the Fas Gas in Claresholm.