Council awards tender to demolish old town office building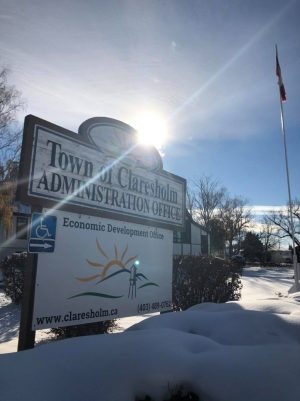 By Rob Vogt, Local Press Writer
The Town of Claresholm will proceed with plans to tear down the old town office building and recently awarded a tender to do the job.
At its May 25 meeting, town council agreed to award the contract for the demolition of the old administration building located at 221 – 45th Avenue West to TR3 Energy of Airdrie for $141,860.
Council reviewed a report stating administration put out a request for quotes and received 17 for the demolition, disposal, fill and compaction at the old administration building. The quotes ranged from $141,860 to $385,000 for demolition and one quote for $1,159,150 to include removal/separation of materials/recycling of the full building.
This price is based on non-road ban season, with the project to be completed by Oct. 29, 2021. This includes construction management, that is a fenced demolition site; demolition; disposal; fill; compaction and levelling; and the removal of five trees and asphalt.
The contractor is to ensure all relevant permits are issued and the town will ensure all utilities have been disconnected prior to the demolition of the building.
Remediation is scheduled to take place beginning the week of June 21, 2021, and will take approximately 10 days to complete. Administration recommended awarding the project to the lowest quote – TR3 Energy in the amount of $141,860.
It was noted discussions are still ongoing with the adjacent property owner of the land as they have an option to purchase registered on title. No decisions on the land have been made at this point. The town will also undertake the compaction testing required for any new development to take place on the parcel. A contractor is in place to undertake this work simultaneously with the demolition at a cost of $3,083.
Council then awarded the contract.