Claresholm bull rider takes second in Texas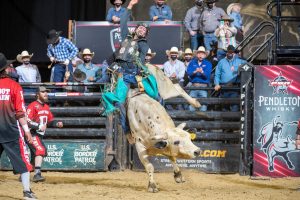 By Rob Vogt, Local Press Writer
A Claresholm bull rider turned in his best ever performance in the Professional Bull Riders, taking second place at an event in Texas.
Logan Biever travelled to College Station, Texas for the Pendleton Whisky Velocity Tour event on April 9 and 10 where he had a flawless three-for three performance to finish a career-best second.
He turned in a ride of 86 points in the opening round on the bull "Mic Drop", putting him in a tie for fourth place with Paulo Ferreira Lima of Brazil. The ride ended a 10-out buckoff streak across all levels of competition for Biever.
They finished behind Leonardo Lima of Brazil who was first with 88.5 points; Lucas Fideles Souza of Barnstable, Massachusetts who was second with an 88; and Cole Skender of Hamburg, Arkansas, who was third with an 87.
Biever, 23, then advanced to Championship Saturday, where he turned in a score of 82.5 points on the bull "Texas Ranger" in Round 2.
That ride put him in the championship round.
Awaiting him was a bull named "Rip" who Biever rode the requisite eight seconds earning him a score of 87.5 points.
Although it was the first event since July of 2020 where Biever rode all his bulls, he fell just short of first place.
Paulo Ferreira Lima of Brazil, who Biever had been tied with after the first round, finished with an aggregate score of 258.5 on three bulls, 2.5 points better than Biever's score of 256.
The results earned Biever 35.5 points in the world standings, lifting him 31 positions.
He is now ranked 46th, up from his previous 77th, in the Professional Bull Riders standings, trailing the top 30 and a spot in the "Unleash the Beast" championship by 38.17 points.
The next action in the Professional Bull Riders Whisky Velocity Tour is on Friday, April 16 and Saturday, April 17 at the Alerus Center in Grand Forks, North Dakota.