Charges laid in recent fire in forest reserve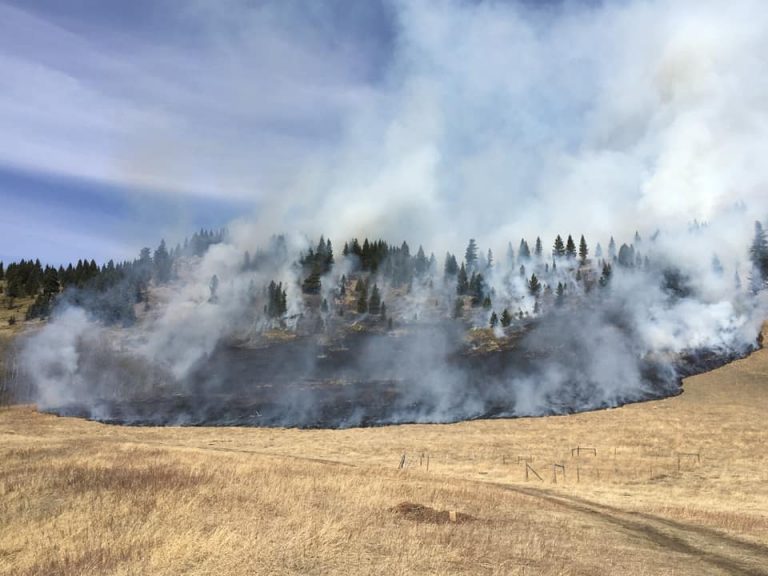 By Rob Vogt, Local Press Writer
Three visitors to the area have been charged in connection with a fire in the Forest Protection Area west of Claresholm.
According to a news release issued by the Claresholm RCMP, on the afternoon of Saturday, April 3, a fire was reported in the Forest Protection Area of the Porcupine Hills west of the town of Claresholm. Fire departments from the Municipal District of Willow Creek and M.D. of Ranchland in conjunction with Alberta Agriculture and Forestry were able to contain the fire to approximately 17 hectares in size.
Investigators with the RCMP Forestry Crimes Unit, working with Provincial Wildfire Investigators and the Claresholm RCMP, were able to determine the cause of the fire was the result of individuals shooting exploding targets.
Following a joint investigation, three people visiting the area were charged under the Alberta Forest and Prairie Protection Act, which restricts the use of tracers, incendiary ammunition, fireworks or exploding targets in the Forest Protection Area.
In addition to charges under the Act, individuals found to be responsible for the cause of a wildfire in the Forest Protection Area may be held liable, in whole or in part, for the cost of services required to extinguish and/or manage said wildfire.
The RCMP, Alberta Agriculture and Forestry, and municipal fire departments would like to remind all individuals the use of tracers, incendiary ammunition, fireworks, or exploding targets is prohibited without written permission from a designated forest officer. Due to extremely dry conditions throughout the province of Alberta that are expected to persist through the late spring/early summer, fires in forested and grassland areas can quickly spread out of control and have catastrophic consequences.
Recreational users of Alberta's forested areas are reminded to take precautions to prevent wildfires, including carrying adequate fire suppression equipment.
In addition to the prohibition of activities listed above, there are currently fire bans, fire restrictions and/or fire advisories in effect for much of southern Alberta. Stay up to date with current fire bans in Alberta by visiting www.albertafirebans.ca and find out current information on the wildfire status within the Forest Protection Area of Alberta by visiting wildfire.alberta.ca.
Wildfires can be reported by calling the toll-free number 310-FIRE (3473).