Burke Creek Ranch honoured with century ranch award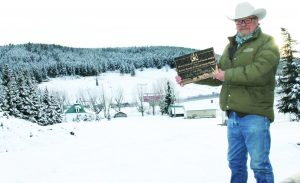 What started out as one man's dream of land and cattle in the new west has spanned generations and touched three centuries.
Recently the Burton family, owners of the Burke Creek Ranch west of Claresholm, were presented with an Alberta Century Farm and Ranch Award by Roger Reid, MLA for Livingstone-Macleod.
Rick Burton tells the story, standing atop a hill overlooking the original spot where his grandfather Frederick Albert Burton homesteaded so many years ago.
Fred Burton senior was born in 1868 and came from an 80-acre farm in Ontario.
He came out west in 1886 on the newly-built Canadian Pacific Railroad, at the age of 18, landing at Fort Macleod.
Burton had experience walking behind a horse and plow, so he found a job on the farm crew at the Winder Ranch, whose headquarters were located near the current green bridge west of Claresholm.
He gained experience on a horse by working cattle, at a number of different ranches.
Then, in 1890, he squatted in an area west of the Winder Ranch lease boundary.
There were thousands of acres of grass which was all unfenced.
However, Burton soon attracted the attention of the government.
"They did everything to run him off," Rick Burton said.
Back then, the area was still part of the Northwest Territories, years before Alberta entered Confederation in 1905.
A federal bureaucrat with the Department of the Interior named William Pierce made repeated attempts to have Burton evicted.
Rick Burton still has all the correspondence, including a letter with a declaration asking for the value of the infrastructure, house and cattle and a place to sign. The government would then re-pay his grandfather. That declaration remains unsigned to this day.
"This range war by correspondence went on until 1896," Rick Burton said.
In 1896, there was a federal election and a change in the federal government as the Liberals under Sir Wilfrid Laurier defeated the governing Conservative party.
With the change in government, came a change in bureaucracy.
The result was Fred Burton receiving title to a half section.
Rick Burton noted there were a lot of homesteaders. It made sense at the bottom of a coulee where there was water and good soil, but there was a lot of land left at the top of coulees that no one wanted. That became Crown grazing leases.
He said a lot of people tried to do what his grandfather did.
One was a man named Quayle, who was there before Burton, and set up at Quayle Coulee.
Burton would go on to buy out Quayle. In the process he discovered Quayle had gone through the same torment with Pierce that Burton had. He even had similar letters.
"He started with nothing," Rick Burton said of his grandfather. "Just hard work and determination kept him going."
"When he started in 1890, Claresholm was not here," he said.
So he had to go to Fort Macleod for supplies, which he did about three times a year.
Burton liked the grass and cattle. Over time, various neighbours decided they couldn't make it.
"One by one they gave up and he was able to buy them out," Rick Burton said.
To read more, subscribe!