Be the bull in latest video game by local designer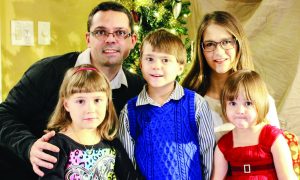 By Rob Vogt, Local Press Writer
In most video games the player controls a humanoid character, but imagine taking on a different character.
How about instead of a human rider, how about being the bull, smashing your way through the world collecting points and power-ups along the way.
That is the premise of "Ragin' Bull", the latest video game from Silicon Hanna, an app and game development studio owned and operated by Claresholm native Joanne Hoar (neé Penner) and her husband Ricardo.
Silicon Hanna is a rural game studio based in the Town of Hanna, and the latest step in a journey for Joanne Hoar that began when she was born and raised in Claresholm.
After graduating from Willow Creek Composite High School in 1996 she attended the University of Calgary where she earned a Bachelor of Science degree in computer science followed by a master's degree.
She met Ricardo in university where they worked on a project together in graduate school.
After grad school they both found jobs in industry.
Joanne went to work in the oil and gas industry while Ricardo was a professor at Mount Royal College, just as it was transitioning into a university.
He would become a department chair at Mount Royal before moving on to Sheridan College in Ontario, which was a hub for graphic design.
The Hoars, who have three children, realized they wanted to be back in Alberta, at a place to be home and raise their family.
Along the way they also had developed an interest in graphics and developing apps and games, and started their own company.
"We sought out a place where we could raise our family and work on our business," Joanne said.
After looking around Southern Alberta at several communities, they settled on Hanna in 2017 because it was digitally connected, has high-speed Internet, community services such as schools and a hospital, and excellent housing prices.
The Hoars now run Silicon Hanna out of their home.
"Which is really great," Joanne said, given they were already working from home.
Although they had been developing games since they started their company 15 years ago, it now became their focus.
They started designing games with "CryptoQuip", which is a puzzle-solving game, and followed that up with "World Slide" and "A Word Theme" which are word puzzle games using sliding tiles.
Following that was "Rafter's Loot", a two-dimensional game where the player is on a raft collecting loot tossed off a pirate ship.
Then the Hoars got interested in augmented reality, in which the players use the camera on their cell phone and can interact with objects on the screen.
They continue to try different things as they go.
"We want to be leading edge," Joanne sad.
Which has led them to "Ragin' Bull".
The game uses the same engine as "Fortnight", the popular three-dimensional game.
Ricardo came up with the initial concept, but both he and Joanne have experiences with bullsl. Ricardo's came from the Calgary Stampede, while Joanne's came from growing up on a cattle farm east of town. Her dad had been a bull rider, so she had a chance to see some awesome bulls in action and hear some great stories.
She recalled one time, showing off a bit to her cousins. She tried to cut through the bull pen to the barn. When the bull spotted her, he charged and she ran back the way she came and cleared the barbed wire fence in one jump.
"That's the sort of thrilling power we aimed for in the game, from the bull's perspective," she said.
So the premise is simple.
"Wouldn't it be neat if the bull escaped," Joanne said. "(And) to be the bull rather than the cowboy.
"What can you smash up, what can you wreck?"
An important part of that is the video game playability and getting that action without the use of guns.
"We are seeing quite a lot of downloads," Joanne said. "(For) people we tested with it's been pretty positive."
They have found a lot of women and teenagers are playing the game.
"They are finding this fun," Joanne said.
One of the added bonuses of working at home is the Hoars use their children to test their games.
"It's a family business for sure," Joanne said. "They've been testing our games, giving us feedback."
So what's next for Silicon Hanna?
Joanne said they want to get involved in the community and they will keep designing games from their studio.
They would like to do another three-dimensional game and have an idea for an educational game.
"We're always coming up with new ideas," Joanne said.
Anyone interested in more information can visit www.siliconhanna.com.