Stavely couple home after pandemic traps them in Peru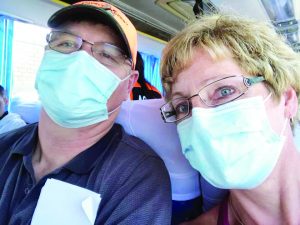 A Stavely couple is back home after a dream trip to Peru was cut short by a pandemic that is shutting the whole world down.
When Tim and Chris Nelson left on March 2 for a six-week trip they had plans to walk the Inca Trail, visit Machu Picchu, visit the Galapagos Islands and wrap it up with a cruise down the Amazon River.
That all changed on March 15.
The Nelsons had gone out with a tour group of 15 people, where they were 10 hours from the Inca Trail. They were also aware an address by the president of Peru to the people was coming.
When the tour returned, the guide told them to get back to the hotel and grab their bags in the next half hour. They had to get to the city of Cusco, so they got in a taxi and headed there.
The president announced visitors had 28 hours to leave the country.
However, the only international airport was in Lima, the capital of Peru.
So Tim and Chris Nelson, their three daughters, and local travel agent Terry Nelson were all on their phones seeking flight information to get out of Peru.
They did get to Lima where they found all the ticket counters were closed. Their goal was to get the last flight out of the country on March 16.
"That ticket window was closed (too)," Chris said. "So we were stuck in the country for awhile."
They registered with Global Affairs and waited for codes from the government to get one of the flights from Lima back to Canada
For 11 days, the Nelsons stayed in a hotel, close to the airport, where they had television, Internet and access to food. They were never in danger though.
"We were never in a worry of being hurt," Tim said. "We were fairly free to walk around."
There were supposed to be no detours. A walk was straight to a local super market and back.
"That was our venture out for a day," Tim said.
When they went out, they observed militia with long guns on every street corner. They were stopping every car, and some pedestrians, but the Nelsons were never stopped.
The tour guide also gave them some simple advice.
"Whatever the militia wants, you do it," Chris said. "We didn't step over our boundaries."
However, the Canadian embassy was about five or six blocks from the hotel, so the Nelsons did make a slight detour there during trips to the super market.
All domestic travel in Peru was non-existent by this point as well.
"Everything was stopped," Chris said.
They also joined a Facebook group called, "Canadians stuck in peru covid19".
"That seemed to be a good source of information," Chris said.
Tim estimated there were 3,000 to 4,000 Canadians in Peru trying to get out, with only limited repatriation flights carrying 400 passengers per flight.
Continued on page 2 of the paper, To read more, subscribe!