Burns named most improved player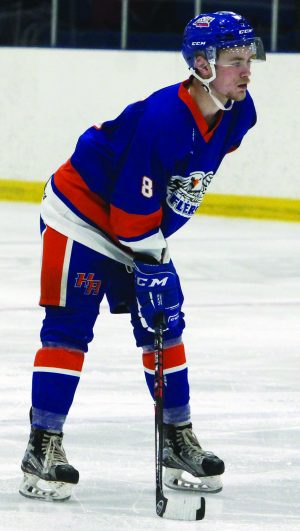 A Claresholm athlete, who played with the High River Flyers of the Heritage Junior "B" Hockey League, has been named the club's most improved player this year.
Sean Burns was honoured with the award on April 15.
"This award is presented to Sean Burns who is honoured for his work ethic, determination and positive attitude in improving his hockey skills and abilities over the course of the year. It is awarded to Burns who works hard, shows marked improvement in puck handling, shooting, passing and skating, as measured from the beginning to the end of the season," said Colten Hayes, coach of the Flyers, in an announcement on social media.
Burns played 36 games this season with three goals, 12 assists and 67 penalty minutes.
The previous year he played five games as an affiliate with two assists and two penalty minutes.
The Flyers finished 14-20-4 in fifth in the south division of the Heritage Junior Hockey League.
They beat the Coaldale Copperheads in the first round of the playoffs and got swept by Okotoks Bisons in the second round.
In the playoffs, Burns played nine games and had a goal and an assist and 22 penalty minutes.
Burns was also one of High River's representatives at the league's Prospects game with teammate Jake Snashall.