Singer/songwriter goes online to perform during pandemic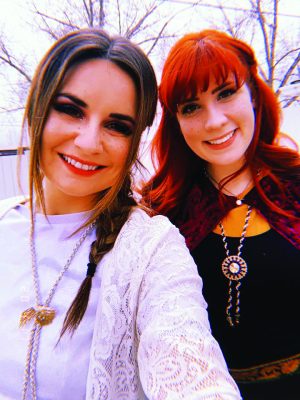 Singers like to sing in front of people.
During the COVID-19 pandemic, with gatherings limited to 15 people until recently, it was difficult to do that.
Stavely singing sensation Mariya Stokes found a way by going online, and she has taken good friend and roommate Allayna Van Diesen along for the ride.
Starting back on March 30, Stokes launched "Fiyah with Mariyah", a live stream on her Facebook page (Fiyah is pronounced kind of like "fire").
"It's super fun," she said by phone interview on May 22.
Stokes does two shows, an adult show on Mondays at noon, and a children's edition on Fridays at noon.
The adult show has a different theme each week. Stokes likes to partner with small businesses and organizations, where they can cross-promote their products, sing some songs, and do a question and answer.
She did one show with the Women's Centre of Calgary and another with a local winery.
The children's show is actually "Fiyah with Mariya and Allayna".
Each show has a theme as well, as the two Stavely natives dress up, sing some songs, and do activities. All costumes are completely made at home too.
This past Friday's theme was the "magic edition" where Van Diesen and Stokes dressed up as characters from "Harry Potter".
They sang songs such as "Puff the Magic Dragon"; "Supercalifragilisticexpialidocious"; and "This is What Dreams are Made of".
They also made a magic potion children could make at home, using canola oil, water, food colouring and two Alka Seltzers or whatever heartburn medication is available at home. Van Diesen said onscreen it looked a lot like a lava lamp.
Shows can be watched live on the Facebook page, "Mariya Stokes". All the previous shows are also available there for viewing.
"We have a different show every single week," Stokes said.
They plan to keep doing the show until Van Diesen, goes back to work.
Stokes plans to continue the Monday show until she can play some live shows again.
"Playing Mondays has been a huge outlet for me," she said, noting "Fiyah with Mariya" has allowed her to reach a wider audience of people from across North America and beyond.
"That's been a blast."
The pandemic has had a big impact on small businesses, and music, which for performers like Stokes is her livelihood.
That is why it is so important for her to partner with other small businesses.
"We all have to band together and support each other when things are tough," Stokes said. "We're thankful for this platform and the chance to play live."
"Fiyah with Mariyah" can be seen on the Facebook page "Mariyah Stokes."