Lifetime hockey fan missing the game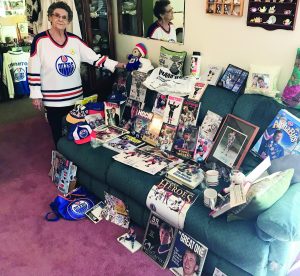 Marilyn Heyland is missing hockey.
The cancellation of the National Hockey League season to prevent the spread of the COVID-19 virus has left the lifelong fan with nothing to watch.
"I tried watching the ones they taped before but I thought, 'I saw this one (already)'," she said, referring to classic hockey games being aired on specialty sports channels.
Heyland has been going through all her things, and downsizing.
It has given her the opportunity to reflect back on a lifetime as a hockey fan, and she has a collection of memorabilia to match.
It all started when she was 10, growing up on a farm outside Claresholm, where her dad loved hockey.
"Every Saturday night he made sure the radio had good (reception) so we could hear the Toronto game," she said.
She also had what she called her hockey book.
"I wrote down every goal, what time it was," she said.
Heyland wrote letters to the players as well, and even got some responses from Syl Apps and Turk Broda, stars of the Toronto Maple Leafs in the 1940s and both members of the Hockey Hall of Fame.
As life progressed, she continued to cheer for Toronto.
Then the NHL merged with the World Hockey Association in 1979, and the Edmonton Oilers joined the league.
"I thought maybe I should cheer for an Alberta team," Heyland said.
The Calgary Flames would re-locate from Atlanta a year later.
She is the rare fan who likes both the Calgary Flames and the Oilers, but prefers Edmonton.
"They were here first," she said.
Moreover, the Oilers were led by Wayne Gretzky, one of the greatest players of all time, and the all-time goals, points and assists leader.
Heyland loved Gretzky.
"Wayne was from Brantford (Ontario) where my mother was from," she said.
Then, she experienced the chance of a lifetime. She was visiting her cousin in St. Catharine's, Ontario 19 years ago, when he suggested they go visit Walter Gretzky, Wayne's dad, a few hours up the road in Brantford.
"Walter was just saying goodbye," Heyland said of pulling up to the Gretzky household. "(To) a great big, black, long limousine."
Her cousin then caught Walter Gretzky's attention.
"Walter, I've got a cousin here from Alberta who likes the Oilers and especially your son," he said.
"Well come on in," Gretzky said.
He proceeded to give Heyland pictures and autographs and much more.
Then he showed her Wayne's trophy room.
"It was just the highlight of my life," she said.
Those items joined a collection that spans decades, ranging from posters and books to dolls, pins, cereal boxes, gloves, boxes of clippings and much, much more.
It is primarily about the Oilers and their players, even when they moved on to other teams such as Los Angeles and New York.
She acquired a lot herself, but her sons Roger and Robert Skoye have given her a lot. When Robert went to university in Edmonton, he regularly sent her Oiler material from the local newspapers.
She still roots for the current Oilers and Connor McDavid and Leon Draisaitl, the heirs apparent to Gretzky, and company.
Her eyes light up when asked if she will watch when play resumes.
"You betcha," she said with a smile, sporting her Oilers jersey with Mom stencilled on the back.