Doctors share funding concerns with council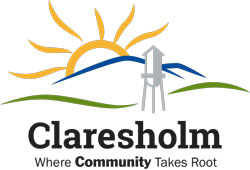 Changes in provincial funding to health care will not only affect doctors, but the community as a whole.
That was one of the messages local physicians Dr. Jeff Jones and Dr. Roisin Dempsey brought when they appeared as a delegation at the Jan. 13 meeting of town council.
Jones explained the health minister in early December decided he wanted to improve wait times and cut back costs of health services in Alberta, so he made proposals that were to be responded to by the Alberta Medical Association within about two months just before Christmas.
The vast majority of those will affect rural physicians.
"It amounts essentially to a 30 per cent cut in our pay," Jones said, adding that leads to significant impacts in the delivery of services.
He emphasized that it may sound financial, which it partly is, but much more.
"It also directly impacts patient care," Jones said.
Moreover, the local clinic has been recruiting a sixth physician the past 16 or 17 months without much success, and that will be made tougher but the funding changes.
Retainment of physicians also becomes an issue, Jones continued.
"Things potentially can be very tenuous," he said, just maintaining the number physicians already here.
The cutbacks will affect mostly the time doctors spend with their patients. The demographic in Claresholm is such that the average age is 54 and province-wide it is 38.
"We have fairly complex patients with a lot of extra needs, and I think all of us spend a significant amount of time with patients," Jones said, adding there will be a reduction in pay for spending a reasonable amount of time with patients.
He pointed if someone's pay is cut they will look to see how they could increase income, and that will be by shortening visits.
"Particularly for our seniors, that's a bit of an issue," Jones said.
There are also many people without a physician in the community too, so if they are unable to recruit they won't be served and, if someone else leaves, those patients won't be picked up either.
If physicians leave, that will make it difficult to cover on-call shifts at the hospital and emergency room. If there are not enough physicians, there may be some potential to close the hospital to emergency room visits during the night.
Right now, during the week it is 24 hours and 48 hours on weekends.
There is economic fallout as well.
Jones noted health services is the biggest employer in Claresholm, with 284 beds in the community between the general hospital, continuing care centre, and centre for mental health and addictions.
There is also the associated potential cutbacks in nursing staff and Alberta Union of Provincial Employees employees.
"We just wanted to make sure everybody is aware of potential consequences," Jones said, adding they met with MLA Roger Reid to express their concerns.
There are also on-going meetings between the health minister and medical association.
"Our physicians are at 100 per cent maximum capacity," Dempsey said, adding if the clinic went from five doctors to four, there would be no way to cover call and deliver patient care.
Wait times are already more than the doctors would like, she said.
People may think it is initially about physician income.
"It goes much, much, much beyond that," Dempsey said, because most of the doctors' families live in town and go to family doctors here and a hospital in the middle of the night. "It affects us on a professional level, but also personally."
She explained the changes will come on Feb. 1, where each patient will be able to see a doctor 10 minutes. That means, they will be practising one problem per appointment.
"Our patients are really going to see a drop in the quality of their health care," Dempsey said, adding if they continue to work the way they are, they will not be able to pay their staff.
Coun. Brad Schlossberger asked how many hours does an average rural doctor put in a week.
Dempsey replied about 60 to 70 hours and Jones responded about 70 to 80, including a 24-hour on-call shift.
Coun. Kieth Carlson asked the difference in cost between a clinic and emergency room visit.
Dempsey said a visit to the clinic is about $37 while a visit to emergency is reported as $300, before staff, so probably closer to $500.
She also said right now, if a patient comes to see her, she can cover three topics in 25 minutes for about $37. In the new system, a patient will be booked three times, once for each topic. Over all that will cost abut $120. This will not save money.
"Was that expressed to Roger?" Schlossberger asked.
Jones and Dempsey replied it was, and they had a good meeting with Reid.
"I made it very clear that if this goes south, that I'm not taking the heat," Dempsey said.
"I would direct that person to go directly to our MLA's door because it's not going to be our fault if this collapses," she added.
She later said the changes will predominantly affect older populations.
"So the ones who are most vulnerable are the ones who are going to get hardest hit, and they're the ones who need to be looked after best so they don't land up in hospital," Dempsey said. "It's penny pinching, completely pound foolish."
"I don't see how this is going to save them money," Schlossberger said.
Later in the meeting council decided to send a letter of support to the minister of health for the local physicians and opposing the changes in funding because of the negative impact they will have on rural health care. Copies will be sent to the local MLA and surrounding MLAs.
It was also suggested the Town of Claresholm host a meeting of mayors and reeves with the intention of sending a delegation to the health minister.