Business award nominations being accepted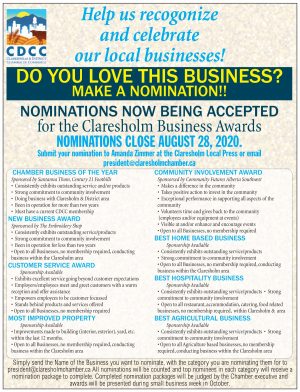 The deadline is fast approaching, but there is still time to nominate a business for one of the Claresholm and District Chamber of Commerce's business awards.
"We've all faced hardships through this pandemic, and we want to bring some positive light into our business community," said Amanda Zimmer, chamber president. "We are proud of the commitment to your business, customers and this community and you deserve a pat on the back for your hard work."
There will not be an awards presentation event this year, but the chamber still thinks it is important to continue recognizing and celebrating local businesses.
There are eight award categories this year, an increase of three:
• Chamber business of the year;
• New business award;
• Customer service award;
• Most improved property;
• Community involvement award;
• Best home-based business;
• Best hospitality business;
• Best agricultural business.
In order to nominate someone, send the name of the business with the category they are being nominated for to president@claresholmchamber.ca.
All nominations will be counted and the top nominees in each category will receive a nomination package to complete.
Completed nomination packages will be judged by the chamber executive and awards will be presented during small business week in October.
"We hope to receive a lot of nominations because there are some pretty amazing businesses who deserve to be recognized and celebrated," Zimmer said.
The deadline for nominations is Aug. 28.