Voters say yes to bylaw to borrow $2.8 million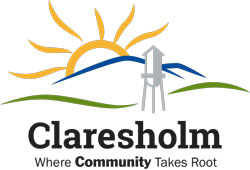 Plebiscite
By Rob Vogt Local Press Writer
The Town of Claresholm has been given the go-ahead by residents to proceed with a bylaw to borrow $2.8 million for the construction of a new day-care and playschool facility and a new multi-use community building. Voters braved the snow and the cold, trekking to the Claresholm Community Centre on Sept. 30, to give council an overwhelming mandate to proceed. When all the votes were tallied, 813 people voted yes and 205 people voted no in a plebiscite asking residents if they support borrowing $2.8 million for the purpose of constructing town-owned buildings to create facilities for administration, day-care, playschool, and other users and community space referred to as multi-use community buildings. Mayor Doug MacPherson was pleased with the results.
"It's really good for Claresholm," he said in a phone interview on Oct. 1. He has been meeting with businesses considering moving to Claresholm and they ask about day care for their employees' families. "Day care is a huge thing with them," MacPherson said, adding in today's day and age both parents work and they need care for their children.
Moreover, first impressions are important in attracting people and businesses, so a new playschool and day care will support that.
"You have to project prosperity to be prosperous," MacPherson said. There were about 2,500 eligible voters, making turnout about 44 per cent. "I think that says a lot," he said. "That's a big turnout for a plebiscite."
MacPherson also pointed to the fact there were 480 signatures on the petition that triggered the plebiscite. He said the 205 people who voted no were less than half those who signed the petition, indicating to him people signed under duress or they just wanted the issue done with once and for all. MacPherson estimated the total cost of the plebiscite to be about $10,000, including council and administration time, advertising, and other expenses.
The next step is for council to pass the final two readings of the borrowing bylaw at their next meeting. Administration has also been preparing the tender documents.
"We'll put the project out to tender," MacPherson said. The timeline is difficult to estimate beyond that, but the mayor said the tender contract could be awarded by new year's. "We'd like to begin construction in the spring," MacPherson said.