Stavely Indoor Rodeo thrills the crowds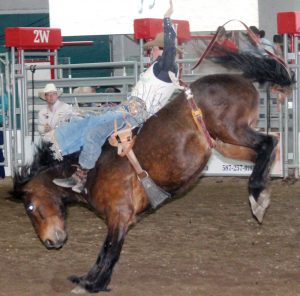 By Rob Vogt, Local Press Writer
It was another successful weekend of riding and roping as competitors from all across Western Canada and the northern United States gathered at the Stavely Arena for the 62nd Indoor Pro Rodeo.
It was three days of exciting rodeo action, May 9, 10, and 11, culminating the crowning of champions on the following events:
Saddle bronc riding
First, Jake Watson, Hudson's Hope, B.C., 84 points;
Second, Zeke Thurston, Big Valley, 81.5;
Third, Nicholas Patterson, Blackfalds, 80.5;
Fourth, Layton Green, Meeting Creek, 79;
Fifth, Hunter Sawley, Fox Creek, and Lane Watt, Hardisty, 78.5.
Bareback riding
First, Connor Hamilton, Calgary, 87 points;
Second, Colin Adams, Deloraine, Manitoba, 86;
Third, Seth Hardwick, Ranchester, Wyoming, 85.5;
Fourth, Richmond Champion, Dublin, Texas, 84.5;
Fifth, Dantan Bertsch, Eastend, Saskatchewan, 83.
Bull riding
First, Kyle Brown, Didsbury, 72 points.
Tie-down roping
First, Blair Smith, Wimborne, 7.9 seconds;
Second, Clayton Smith, Eckville, 8.7;
Third, Logan Spady, Alliance, 8.8;
Fourth, Wyatt Hayes, Val Marie, Saskatchewan, 8.9;
Fifth, Shane Smith, Wimborne, 9.0.
Steer wrestling
First, Evan Spady, Alliance, 4.2 seconds;
Second, Layne Delemont, Chauvin, 4.8;
Third, Ty Miller, Wainwright, 4.9;
Fourth, Brock Butterfield, Ponoka, 5.2;
Fifth, Scott Guenthner, Provost, 5.3.
Barrel racing
First, Taylor Shields, Cochrane, 13.524 seconds;
Second, Kirby Finkbeiner, Wardlow, 13.691;
Third, Rylee Trenholm, Chetwynd, B.C., 13.746;
Fourth, Kareen Warren, Medicine Hat, 13.757;
Fifth, Bradi Whiteside, Longview, 13.797.
Team roping
First, Roland McFadden, Vulcan, and Devin Wigemyr, Brooks and Brett Buss, Ponoka, and Klay White, Ponoka, 5.4 seconds;
Third, Braidy Davies, Cypress County, and Brady Chappel, Moose Jaw, Saskatchewan, 5.5;
Fourth, Riley Warren, Stettler, and Clay Ullery, Two Hills, 5.9;
Fifth, Jace Lambert, Savona, B.C., and Nick Teixeira, Kamloops, B.C., and Joey Romo II, Nanton, and Riley Roy, Strathmore, 6.0.
Boys steer riding
First, Beau Gardner, Arrowwood, 82 points;
Second, Griffin Koester, Rockyford, 78;
Third, Tristen Manning, Yellowhead County, 72.