Mental health help, resources available in the community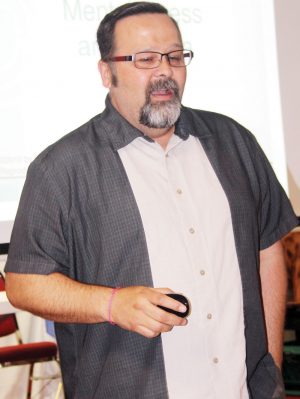 By Rob Vogt, Local Press Writer
The community has a wide range of mental health services, but a lot of people either do not know they are there, do not know how to access them, or face a barrier to accessing them.
Mike Cutler is a licensed practical nurse and community liaison with the Claresholm mental health clinic.
He addressed these questions and more at a Mental Health in the Workplace session attended by more than 40 people at Claresholm Branch No. 41 of the Royal Canadian Legion on June 25.
Cutler opened by talking about mental illness and the stigma that can surround it.
"It (stigma) stops people from getting the help they need," he said.
He defined mental illness as a change in thinking, mood or behaviour accompanied with distress and impaired function over time.
"Everybody's affected by mental health," Cutler said.
He put up a number of pictures of celebrities ranging from soccer star David Beckham to host Oprah Winfrey, who have mental health issues such as anxiety and obsessive compulsive disorder.
The effects of stigma, Cutler continued, include misunderstanding people with a mental illness, and a hesitation to seek help.
The cause of mental illness is a chemical imbalance in the brain.
Cutler likened it to diabetes, which is a chemical imbalance in the pancreas. If it is caught early, it can be treated with changes in lifestyle, exercise, and diet. If that does not work, medication can help.
Mental illness, if caught early can be treated with lifestyle changes. If that does not work, then medication is the next step.
"Those services are available in the community," Cutler said of treatment.
The mental health clinic, located in downtown Claresholm, has available two psychologists; two nurses; a psychogeriatric mental health consultant; and two consulting psychiatrists.
A referral from a doctor is not required. Instead, people can see the intake coordinator who will book an appointment.
The wait time is about three weeks.
"Everyone in this room has been affected somehow by mental health," Cutler said. "It's about awareness, it's about understanding what there is."
Cutler contrasted the wait times to Calgary where he has seen a 14-month wait for a therapist and a nine-month wait for a psychiatrist.
"There are resources in your local community," he said of the clinic. "We're not going to break that stigma of mental health without talking about."
The evening also featured presentations by Dr. Tashi Kinjo, a psychiatrist and clinical medical director at the Claresholm Centre for Mental Health and Addictions, and Dr. Roisin Dempsey, a family doctor in Claresholm.
It was all part of the ongoing "Opportunities for Growth" public education sessions put on by the Claresholm and District Chamber of Commerce and Claresholm Economic Development.