Lomond Lakers wrap up home schedule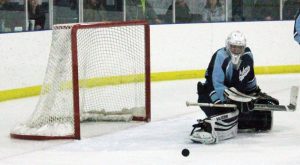 By Rob Vogt, Local Press Writer
The Lomond lakers, who play most of their home games at the Claresholm Arena, wrapped up their home schedule on the weekend.
The Lakers hosted the Okotoks Bisons on Friday, Feb. 1, losing by a score of 6-1.
Lomond struck first, as Wacy Sandum scored, assisted by the Claresholm connection of Clayton Billyard and Gavin Burns.
However, that was all the Lakers would get, as the Bisons scored twice in response to lead 2-1 after 20 minutes, then added three goals in the second period and one more in the third, to skate away with the 6-1 victory.
The Lakers hit the road the next night, Feb. 2, travelling to Didsbury where they dropped a 6-2 decision to the Mountainview Colts.
Goaltender Dustin Drake of Claresholm got the start in net, stopping 37 of the 43 shots he faced.
Again Lomond drew first blood as Tyler Rohl scored, with assists from Dakota Koch and Burns, but the Colts tied it 1-1 before the end of the period.
Mountainview took control in the second period with four unanswered goals and a 5-1 lead after 40 minutes.
They made it 6-1 in the third period, before Lomond finished the scoring on a gal by Christian Dees, from Burns and Billyard, to make 6-2 the final score.