Locals take bronze medal in provincial championships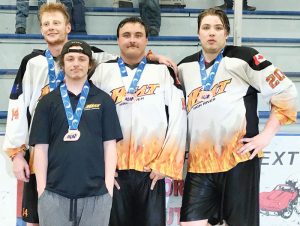 By Rob Vogt, Local Press Writer
The Junior "B" Tier-2 High River Heat recently took home a bronze medal in the provincial championship tournament.
Coach Larry Makortoff  said the Heat competed July 19 to 21 in Sherwood Park as one of four Alberta teams competing for the title of provincial lacrosse champion, although the road to the final gold medal game was not to be this year.
They did take bronze, defeating the Lakeland Heat by a score of 14-8.
"What is appreciated is we had three Claresholm players and one Nanton player," he said.
Dustin Drake, was one of their defensive players as well as one of the best drawman in the league winning 75 – 90 percent of their draws, and that wins games.
Jarrid Baxter, a player who sat out the whole regular season with an injury, then came back for the start of playoffs and scored a hat trick in his first game back ,continued to be a tough dominant player with a very competitive spirit.
"These players were a big part of our success this year," said Makortoff.
Mike Berryman, he said, being the newbie on the team had a great first season with the Heat. Playing on offence, he has speed and his agility was a highlight every game, but unfortunately Berryman got injured halfway through the season with a shoulder injury. That didn't keep him from making the drive twice a week to practice, and making every game to help the coach with game stats and giving that information to the team.
The one Nanton player was Ben Wallace, another very dynamic player, who is the fastest player on the Heat with outstanding agility and game sense. Wallace was a great bench motivator and knew when and what to say at the right time to motivate players.
"My hope is that these players and possibly more from the area think of the High River Heat Junior 'B' Tier-2 team next season," Makortoff said. "We will be back on the floor for winter lacrosse in the new year. Watch for dates or go to our website highriverlacrosseassociation.com.
Assistant Coach Paul Pearson had similar praise.
"Your boys are always  a critical piece to any success our team has, year in year out," he said. "The Town of Claresholm should be proud. Not only for their athletic achievements but more importantly how these young men conduct themselves off the floor.
"All four of them are characters for sure. These kids always handle themselves with the utmost respect and class and positivity. The boys are the passion and heartbeat of the team. They are the type of kids that make it easy and more than enjoyable to be a coach.
"These four donkeys of yours have become like my younger brothers over the past few years. I'm truly grateful!
"Claresholm, like I said, you should be proud of the young adults you're raising, not just because of medals and banners but because of the wholesome people you are raising. I would personally like to thank the boys not just for the medals but the memories."