Local players win provincial banner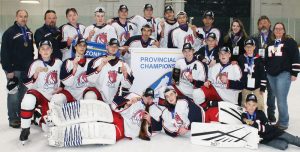 By Rob Vogt, Local Press Writer
It proved the second time is the charm for the Fort Macleod Mavericks hockey team, who won the Midget "D" provincial championship on home ice by defeating the only team that beat them throughout the tournament.
The Mavericks are made up of players from Fort Macleod along with Brenndon Mackin, Tristan Martin, Jaylen Martineau, and Kyle Vogelaar of Claresholm. There was no midget team in Claresholm this year, so they chose to play in Fort Macleod. Some of the Mavericks played on the Claresholm bantam team last year, so they were well acquainted with each other.
The Mavericks opened the tournament at the Fort Macleod and District Sports Centre on March 22 with a 4-3 loss to the Horse Lake Thunder.
Vogelaar opened the scoring and Mackin scored the Mavericks' second goal. Both goals came in the second period.
The Mavericks travelled up the road to the Claresholm Arena for their first game on Saturday, March 23, a 4-1 victory over Edson.
Goaltender Jaylen Martineau recorded the win in net, stopping 16 of 17 shots.
Fort Macleod was back on home ice later the same day, where they defeated Rimbey by a score of 1-0, as Mackin scored the game winner at 14:16 of the third period.
Those results gave the Fort Macleod second place in Pool A, and a date with the Redcliff Grizzlies in a semi-final on Sunday morning, March 24 in Fort Macleod.
The Mavericks prevailed by a score of 4-1 to advance to the tournament final, and a chance at the provincial championship.
Martineau again was solid in net, turning aside 20 of 21 shots to earn the victory.
Awaiting the Mavericks in the final on Sunday afternoon was Horse Lake, who had handed Fort Macleod their only loss of the tournament.
The Mavericks would remove all doubt, leading 1-0 after the first period, but taking complete control with five unanswered goals in the second period to lead 6-0 after 40 minutes, including one from Mackin.
Horse Lake would get one goal back in the final period, but again Fort Macleod answered to skate away with the 7-1 victory and the provincial championship banner.