Local artist part of Oscar, Golden Globe winning visual effects team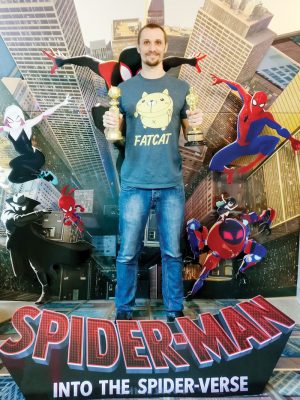 By Rob Vogt, Local Press Writer
During the end credits of "Spider-Man: Into the Spider-Verse", winner of an Oscar and Golden Globe for its visual effects, you will see it right in the middle of the screen under "lighting and composite artists", middle column halfway down – the name Bradey Strong.
What it does not say is that Strong was born and raised in Claresholm, and has had quite a journey that has taken him from Claresholm to Vancouver, Australia and beyond since graduating from Willow Creek Composite High School in 2001.
He has been working in visual effects about 10 years, and came back to Vancouver specifically to work on "Spider-verse", a computer-animated superhero film based on the Marvel Comics character Spiderman.
He heard Sony was hiring, and knew this project was going to be different.
"Ya, I'm coming back for that," he said by phone from Vancouver.
Strong is a lighting artist.
He explained that three-dimensional animation is divided into a number of parts.
It starts with modelling, where the characters are built, then moves to animation and lay out where cameras are used.
At that point it goes to Strong's department.
"We place lights in that world," he said.
Using specialized software, they will add that lighting and shadows.
"We'll moving the lighting around," Strong said.
This is re-modelled then  the images are put together.
Read the full story on page 5 of the paper, here online or in print