Claresholm Trap Club shooters honour Norgard with 21-gun salute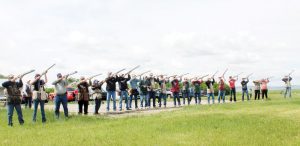 By Rob Vogt, Local Press Writer
It was a sunny day when 21 trap shooters, all friends and family of Arnold Norgard, lined up at the range west of Claresholm and took a shot in memory of their friend.
The Claresholm Trap Club held a shoot on Saturday, June 8, in memory of Norgard and Ken McDowell, two long-time members of the club and champion shooters.
"This whole day has been incredible," said Lorinda Turner, Norgard's granddaughter.
She noted her grandpa devoted years to organizing and promoting the trap club.
"It was a very social time," she said.
He also was pretty clear on what he wanted after he passed away.
It was to be 21 shooters, shooting all at the same time. He even told her who would make the shells and exactly how.
"He's wanted me to do that since I was 10 years old," Turner said.
The result was a powerful tribute.
She also commended the trap club for organizing such a wonderful event.
"It's what he wanted," said Wade Gustman, president of the club.
For years, Norgard put on a shoot at this time of year, so the time was fitting.
The first annual Arnold Norgard and Ken McDowell trap shoot attracted about 35 participants from across Southern Alberta.
The initial forecast was for wind and rain, but when the time came, conditions were good for trap shooting.
"My grandpa stopped the wind and the rain," Turner said with a smile.