Lieutenant Governor unveils bust of women's rights pioneer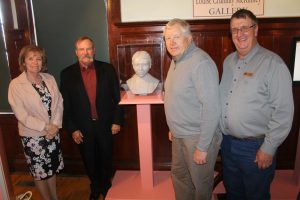 It was a fitting tribute to a pioneer in women's rights in Canada. This past Saturday, Oct. 5, Lieutenant Governor Lois Mitchell officially unveiled a bust of Louise McKinney, as well as an exhibit honouring the Famous 5 and women in agriculture, at the Claresholm and District Museum before a gathering of dignitaries and special guests. McKinney was one of the Famous 5 who fought for the rights of women across Canada, succeeding in finally having women recognized as persons under the law. She would go on to become the first woman ever elected to a legislature in the British Empire, representing Claresholm, and is buried in the Claresholm Cemetery.
This year marks the 90th anniversary of the Persons Case. It was fitting that Mitchell, the queen's representative in Alberta, did the unveiling. If it was not for the Persons Case, Mitchell would not be eligible to serve as lieutenant governor. "I draw strength from events like this," Mitchell said, and she appreciated it for three reasons. The exhibit focuses on women's history. There is a Famous 5 exhibit on the fifth floor of the legislature building in Edmonton, and Mitchell encourages people to see it. "She was an amazing (person)," Mitchell said. "A very powerful force for change. "Imagine the change they had to go through. "We can learn so much from her boldness." Mitchell added McKinney was strong and compassionate, overcoming endless obstacles. The exhibit also focuses on women moving agriculture forward. "I do care for agriculture," she said, noting she and her husband had a breeding farm for horses near Millarville for 20 years. "We never got tired about hearing about the land," she said, and how it is full of innovative people. "It's so essential about Alberta's past." Finally, Mitchell likes the interactive nature of the new display. "The best learning happens when we all dive in with all of our senses," Mitchell said, adding it is important to lift stories off the page and breathe life into their characters. She commended everyone on the exhibit and hoped the museum continues to be a place for learning, inspiration and pride.
Roger Reid, MLA for Livingstone-Macleod, brought greetings from Leela Sharon Aheer, minister of culture, multiculturalism and status of women. He remembered first hearing about Louise McKinney when a plaque about her was mounted on the post office. "Here I am following in her foot steps," he said. Where she was the first female MLA representing Claresholm, he is the latest MLA to. It is the 90th anniversary of the Person Case, but Reid noted it was not that long ago women were not able to pursue all the paths they wanted. Now, he works with great women every day in the legislature, due to the efforts of the Famous 5.
"I am glad I get to experience that perseverance almost every day," Reid said. Mayor Doug MacPherson brought greetings from the town. He paid tribute to Louise McKinney as well. "We're all very proud she came from here," he said.
MacPherson has visited the Famous 5 monument in Ottawa, and it left an impression on him. "It makes you think what's possible," he said. MacPherson also paid tribute to women in agriculture, himself coming from a family that homesteaded in Manitoba. He saw first hand that without the partnership of a husband and wife team on a homestead, the homestead would fail.
The museum partnered with the United Farmers of Alberta Historical Society on the exhibit, including the bust of McKinney. The bust was created by Calgary artist Mark Cromwell, who dedicated hundreds of hours to the project. Duane Glimsdale of Claresholm chairs the historical society, and said they picked three communities in which to honour history.
When Claresholm was one, he hesitated because he did not want to show favouritism to his own town. Then he saw McKinney was from Claresholm and Henrietta Muir Edwards, another member of the Famous 5, was from nearby Fort Macleod.
"This was such a fit," he said. "It just all worked. "I am astounded at this display." The last word went to Bill Kells, executive director of the museum. He explained the Louise McKinney Gallery and Women in Agriculture Exhibit has four interconnected components.
There is the bust of McKinney,and the women in agriculture touchscreen display. There is a re-creation of a Pink Tea, which was a gathering in the early 1900s that women used to discuss politics and change, free of harassment. Finally, there is a system of panels on the Famous 5, done 30 years ago to commemorate the 60th anniversary of the Persons Case. Those panels had been in storage for years.
"(Now) we're bringing them out of the darkness and into the light for the 90th anniversary," Kells said.