MLA for Livingstone-Macleod visits Claresholm town council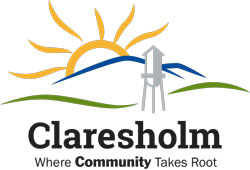 Government relations
By Rob Vogt Local Press Writer
The MLA for Livingstone-Macleod paid a visit to Claresholm town council recently to update them on his activities and identify any issues they may have. At council's Aug. 12 meeting, MLA Roger Reid, who is also a Claresholm native, appeared as a delegation, where he expressed his appreciation to council for having him and for the work councillors do.
"I want to commend you each," he said for being on council. Reid added it is an absolute privilege to represent Claresholm and will try to be a strong voice for them. The newly-elected United Conservative Party government, of which Reid is a part, recently passed the 100-day mark of its mandate.
"We're off to a good start," he said, noting they have kept 55 of the 375 promises they made in the election. That includes eliminating the carbon tax and engaging with citizens.
"They're really excited to listen to Albertans," Reid said. To that end, the government is consulting on reducing red tape in government, on Alberta Health Services, and farm safety regulations. Reid pointed out Devin Dreeshen, minister of agriculture, was hosting a public consultation in Claresholm on Aug. 20 on the farm safety legislation.
"We've had a good response," he said. Reid emphasized he wants to make himself available to council and has already met with ministers on various issues.
"I'm here to listen," he said. Consequently, Reid asked council if they had any issues. Mayor Doug MacPherson asked about the status of Municipal Sustainability Initiative funding. This is funding used for infrastructure projects such as sewer and water lines, streets and more. Reid said it has been announced funding is open for municipalities to apply, and the process will be completed with the provincial budget in November.
However, he did stress that, just like in the business he runs, he understands the importance of long-term, predictable, sustainable funding. Thus far, the government's focus has been getting Albertans back to work, and that will generate revenue.
"Do you see any reduction in the MSI?" MacPherson asked. Reid replied he could not answer that, adding the government was to receive the report of the blue-ribbon panel on the province's finances later in the week. He also said there is $597 million available this year in MSI. Coun. Brad Schlossberger asked about policing.
Reid responded he has taken the issue of rural crime to Edmonton, adding a unified system, better prosecution, and more resources to address repeat offenders are needed. He said there has to be a look at root causes of rural crime because if crime is reduced, there is less need for as many police and jails. MacPherson expressed a concern the cost of policing may be downloaded onto municipalities.
Schlossberger said one of the roots of the problem is mental health and addiction. Reid agreed, saying his riding is on Highway 2, a main corridor, so illegal activity is lucrative. People get involved in it and it can destroy communities.