Federal election candidates make their case at forum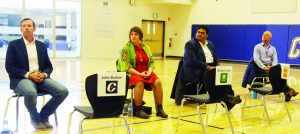 By Rob Vogt Local Press Writer
The candidates vying for the seat in the Foothills constituency in the upcoming federal election had a chance to introduce themselves at a forum in Claresholm last week. Willow Creek Composite High School hosted an all-candidates forum in their gym on Oct. 10 that brought together John Barlow of the Conservative Party of Canada; Bridget Lacey of the Green Party; Mickail Hendi of the New Democratic Party; and Greg Hession of the People's Party of Canada. Cheryl Moller of the Liberal Party was not in attendance.
Candidates began with introductory remarks. Barlow, the current member of parliament in Foothills, grew up, worked, and raised his family in High River. He knows the issues, the people, and the communities in Foothills. He said the upcoming election on Oct. 21 is very important. "Your families are going to be making a very important choice," Barlow said. That's because the election is about unity. "It's about keeping this country together," Barlow said. "I've never seen our country as divided as it is now." Whether it is east-west, rural-urban, or support for natural resources development, there are divisions. Barlow said it is time to stand up for the oil and gas industry. "We should stop apologizing for them," he said, noting Canada has the highest standards for development and should be exporting that expertise so people can benefit. He said it is time to stand up for agriculture. Right now, farmers are trying to finish their harvest, but they have no global markets to sell their crops to, because the current prime minister has devastated those international relationships. Barlow also wants to make life more affordable for Canadians, with measures such as the universal tax cut and scrapping the carbon tax.
Lacey grew up in Turner Valley and her children currently attend school there. "I believe I represent a lot of voices in the Foothills," she said. Lacey said the current electoral system does not fairly represent everyone. A system of proportional representation, where the percentage of seats is equal to the votes, is fairer and what Prime Minister Justin Trudeau promised after the last election, but is not happening. She said the biggest item on the agenda is addressing the global climate crisis, where steps have to be taken to transition to a renewable energy economy. Lacey wants to see a just transition for all workers through it. "Those jobs aren't going to go away," she said, adding they will be transitioned. She also wants to see subsidies for oil and gas turned over to wind, solar, and geothermal energy producers. Abandoned and orphaned gas wells can also be tapped for geothermal energy. Another issue is ensuring affordability and justice for people across the entire economic range. That means people at the top paying their fair share of taxes, and a guaranteed livable income for those lower down. The goal is to reduce poverty and create a living wage. It also means making life affordable with a pharmacare program, and free post-secondary education for everyone.
Hendi said the New Democrats' platform is about affordability and advocacy. "We are working Canadians," he said, adding the NDP believes workers are the most important people to look after. Hendi said the established parties have lost their way. Working families need to be protected and be able to afford all the necessities of life. That means affordable housing, retrofitting every home to be energy efficient, including post-secondary education in the public school system, changing student loans to student grants, and more. He opposes tax cuts and breaks for the wealthy, noting otherwise it's more money working Canadians have to pay The problem now, Hendi continues, is tax havens where companies make millions in Canada but have their headquarters elsewhere to avoid paying tax in Canada. "The NDP are committed to putting an end to this," he said. "We're going to make life fairer and more affordable for everyone," Hendi concluded, where everyone needs to pay their fair share.
Hession is originally from Ottawa, is an engineer and self-employed. He said people have been led to believe government is the solution to all problems. The response has been to make government bigger and spend more money. Now, the government is indebted, paying $54.3 million a day in interest. "It's value that's being extracted from our society," Hession said. This is putting the economy in peril, where people are already paying about 50 per cent or more in taxes. His party's platform has four pillars – freedom, fairness, respect, and personal responsibility. He invited everyone to check those out on the party's website. "When you see trouble coming, you have to address it," Hession said of the country's financial situation. He has faith in humanity and the ability to innovate. Hession also does not subscribe to climate alarmism and said carbon dioxide is not the source of climate change. Instead, he encouraged everyone to do more research on climate change. Environmental policy, he concluded, is really economic policy and the re-distribution of wealth.
(See related story on page two)
To read more,  subscribe  for full year!