Feast of Claresholm moves inside for sell-out success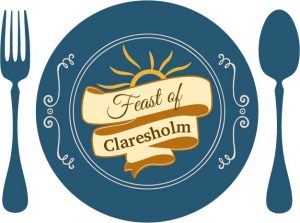 Farm-to-plate supper
By Rob Vogt Local Press Writer
Rain could not put a damper on the Feast of Claresholm. The event, which is a chance to honour the farming and ranching community that plays such a vital role in this area, was scheduled for downtown Amundsen Park on Friday, Sept. 6.
However, with clouds looming and rain threatening, organizers moved the feast indoors to the Claresholm Arena, where they had just as much success. The second annual Feast of Claresholm, featuring locally-sourced food from farm to plate, attracted a sell-out crowd of 100. Jay Penner of the organizing committee served as the emcee for the occasion. He paid tribute to everyone who moved the event indoors.
"They did a good job trying to create a great atmosphere," Penner said. He then introduced Coun. Brad Schlossberger of the Town of Claresholm who thanked everyone for coming and introduced Cynthia and Dino Vizzutti who were the guests of honour for the evening. Schlossberger then invited Darry Markle, a councillor with the Municipal District of Willow Creek, to the mike to say a few words about Cynthia Vizzutti. Markle acknowledged Vizzutti's service to the district and the community over the past 24 years as the M.D.'s chief administrative officer. He described her as a dedicated and formidable leader in her field, and a proud mom which Markle said is the most important job on the planet. He also expressed his appreciation for her years of service. "May your wine cellar always be full," Markle said. Doug Leeds followed by saying grace. He said everyone should be grateful to live where they do in this country and this town. The feast was also a chance to celebrate that with family, friends and newcomers. Leeds then led everyone in a rendition of the "Johnny Appleseed Blessing".
Musical entertainment was provided by Claresholm native Charlie Ewing and his good friend Bob Blair, and members from the area 4-H beef clubs and high school students volunteered to serve the meal.