Cat cafe shows off kittens at public library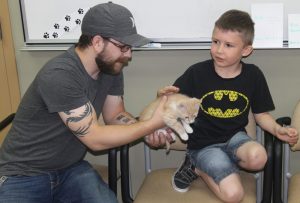 By Rob Vogt, Local Press Writer
The Claresholm Animal Rescue Society (CAReS) has a lot of cats available for adoption, and they showed just a few to the public this past weekend.
CAReS held a cat cafe at the Claresholm Public Library on June 22, where they had 10 kittens and two adult cats in the Bill Simpson Room.
They ended receiving two applications as a result but that was not their only goal.
"We wanted to show of some of our cats," said Diane Lockhart ot CAReS. "We have many, many more."
She people love to see the cats and make a point of coming to see them at the cat cafe.
They also wanted to make people aware that CAReS is around and there is an animal shelter in town.
"It's good exposure for the shelter," Lockhart said, adding people are welcome to see the wide selection of cats and kittens at the shelter.
She also explained the cost of adopting a cat includes spay and neuter, vaccination, and de-worming.