Biever wins Besplug Bull Riding championship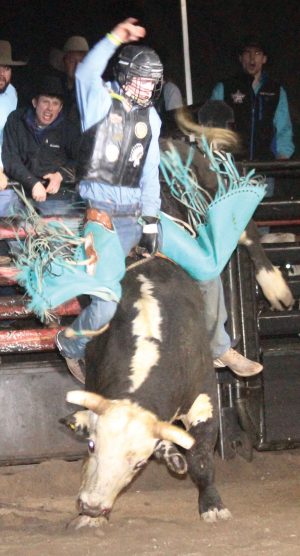 By Rob Vogt, Local Press Writer
Logan Biever had the whole crowd behind him when he settled in for his final ride at the Chad Besplug Invitational Bull Riding on Saturday night.
The Claresholm Agriplex was jampacked on Feb. 23 with friends, family and supporters who wanted to see the Claresholm product turn in a performance that would help him win the sixth annual event.
Biever had turned in a score of 83 on his first ride, and sat second behind defending champion Garrett Green who had a score of 170 on two bulls.
That meant Biever needed an 87 to tie, and anything better would put him in the lead.
The crowd held their collective breath as he readied in the chute.
Suddenly, the gate opened and Biever bobbed and weaved with bull. The noise of the crowd increased with every second he stayed on.
Then the horn blew after eight seconds and the crowd went wild. Biever had hung on for a qualified ride.
There was a pause until announcer David Poulsen revealed the score.
Biever had turned in an 88, giving him a total of 171 on two bulls and the lead.
All that stood between him and victory was Austin Nash, who was the leader after the long go round with a score of 86.5. If he scored 84.5 or better he would share the title or win it outright.
But it was not meant to be for the Eckville cowboy who was bucked off.
That meant Biever had won, becoming the first Claresholm bull rider to win the Chad Besplug Invitational.
Besplug, a two-time Canadian champion and Calgary Stampede centennial champion, hails from Claresholm.
He told the crowd when he presented the championship trophy that he watched Biever from a young age when he was starting out, riding steers.
For his part, Biever said it was a dream come true.
"You couldn't set it up any better," he said, as he accepted the championship trophy and thrust in the air, sending the crowd into another frenzy.
Austin Nash of Eckville led after the long go round with an 86.5. He was followed by Biever with his 83; Todd Chotowetz of Major, Saskatchewan, Garrett  Green of Meeting Creek, and Zane Lambert of Ponoka, all with 81; Billy West of Cadogan with an 80.5 and Shane Peters of Delburne with a 79.
Also qualifying for the short go, final round were Kyle Brown of Didsbury, Riley Gagnon of Red Deer County, and Jacob Gardner of Dawson Creek, British Columbia, who had no times but were closest to eight seconds.
Green had the best score in the short go with an 89, Biever and Peters both turned in an 88, Gagnon had an 86.
That meant the final standings were Biever was first with 171; Green was second with 170; Peters was third with 167; Nash was fourth with 86.5; and Gagnon was fifth with 86.
Bullfighters Only performed at the intermission.
Aaron Mercer had the best score, an 85; followed by Kris Buffalo of Standoff with an 83; Connor Larrivvee with an 81; Tate Rhoads with an 80; and Ty Prescott with a 77.