Stavely Indoor Rodeo another smashing success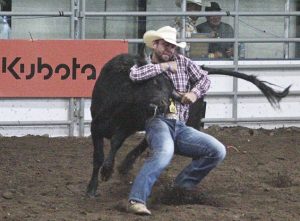 By Rob Vogt, Local Press Writer
It was another weekend of thrills and excitement at the Stavely Arena as the 61st Indoor Pro Rodeo took centre stage.
The rodeo took place on May 10, 11, and 12, and when all the dust settled, the winners were:
Saddle bronc riding
First, Clay Elliott, Nanton, 87.5 points;
Second, Dawson Hay, Wildwood, 82;
Third, Jim Berry, Rocky Mountain House and Lane Watt, Hardisty, 81.5;
Fifth, Sam Kelts, Stavely, 80.
Bareback riding
First, Seth Hardwick, Ranchester, Wyoming, 87.5 points;
Second, Clint Laye, Cadogan, 85.5;
Third, Dylan Bilton, Red Deer County and Caleb Bennett, Tremonton, Utah, 84.5;
Fifth, Ky Marshall, Bowden, 83.
Bull riding
First, Nick Tetz, Calgary, 84 points;
Second, Logan Biever, Claresholm, 78.5.
Tie-down roping
First, Jesse Popescul, Wood Mountain, Saskatchewan, 7.9 seconds;
Second, Josh Eirikson, Bandera, Texas, 8.7;
Third, Logan Bird, Nanton, 9.1;
Fourth, Kyle Lucas, Carstairs, 9.3;
Fifth, Blair Smith, Wimborne, 9.4.
Steer wrestling
First, Tanner Milan, Cochrane, 3.9 seconds;
Second, Lucas Parker, Marwayne and Scott Guenthner, Provost, 4.4;
Fourth, Ty Mason, Spruce Grove, 4.6;

 

Fifth, Matt Mailer, Botha, 4.9.
Team roping
First, Chase Simpson, Claresholm and Steele DePaoli, Longview and Grady Branden, Barrhead, and Colten Fletcher, Wainwright, 5.6 seconds;
Third, Roland McFadden, Vulcan, and Devin Wigemyr, Brooks, 5.7;
Fourth, Cole Bevans, Magrath, and Ty Cahoon, Cardston, 6.0;
Fifth, Rocky Dallyn, Nanton, and Grady Quam, Crossfield.
Barrel racing
First, Bailee Switzer, Aneroid, Saskatchewan, 13.521 seconds;
Second, Kendra Edey, Longview, 13.553;
Third, Kylie Whiteside, Longview, 13.577;
Fourth, Bobbie Goodwin, Cranbrook, B.C., 13.614;
Fifth, Kaitlin Haeberle, Viking, 13.674.
Boys steer riding
First, Carter Sahli, Red Deer, 75.5 points;
Second, Jett Lambert, Grande Prairie, 73;
Third, Cauy Schmidt, Coronation, 72.