Stavely Elementary School parents raising funds for playground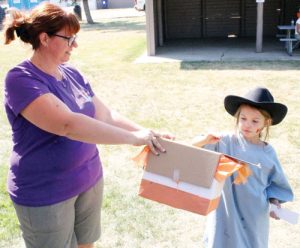 By Rob Vogt, Local Press Writer
The Stavely Parent Advisory Association provides volunteers for a varity of activities at Stavely Elementary School, but their biggest project right now is fundraising for a new playground.
"Our goal is to help the kids in whatever function they need it," said Jenn Kewley, the association's treasurer.
They are currently raising funds to replace a portion of the playground at the school.
Part of the playground was replaced more than 17 years ago.
Now, the wooden structure is starting to splinter and show its age. This is also the opportunity to make the playground accessible to all students. The school now has a student in kindergarten who uses a wheelchair and has mobility issues.
"We would like them to play on it as well," Kewley said.
The total cost will be about $350,000 for the playground.
The association has already undertaken several initiatives, raising about $40,000.
This funding will be used to match any grants the association receives.
Those activities have included students selling beef jerky and Christmas products; and holding a raffle during the Stavely 105 celebrations.
They will be hosting a bingo at Stavely Elementary School on Thursday, April 19 (tomorrow) with doors opening at 5:30 p.m. and bingo starting at 6:30 p.m.
The next event will be a fundraising dinner on May 26 at the Stavely Community Centre, with tickets now on sale.
The association is working with a grant writer to apply to various organizations for grants.
The goal is to have the playground completed by 2020.
The association also help with events at the school such as the John Norgard Family Fun Day.
"We help find volunteers if the school needs them," Kewley said.