Forward part of provincial champs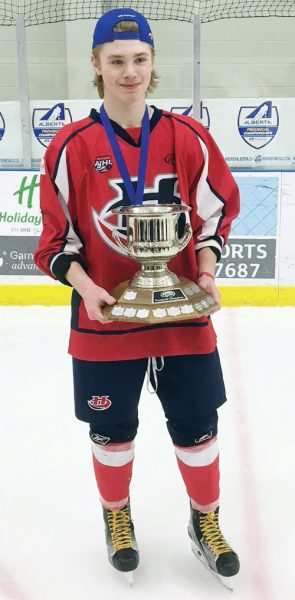 By Rob Vogt, Local Press Writer
A local forward played his part in winning the recent Minor Midget "AAA" hockey championship in Lethbridge.
Sean Burns, who was unable to play in Claresholm because there was no midget team, took his skills to Lethbridge where he made the Lethbridge Headwater Hurricanes of the Alberta Minor Midget "AAA" Hockey League, a team made up of 15-year-olds.
They finished second in the South Division with a record of 28 wins, five losses, and three ties for 59 points, just two less than first-place Rockyview.
Burns finished the regular season playing in 35 games, scoring four goals and adding three assists.
The Hurricanes then took bronze in the Sutter South Cup, which acts as the playoffs for the league.
The Hurricanes were part of Pool B, where they opened with a 3-1 loss to Red Deer.
They followed that with a 3-3 tie with CNHA Blazers, and a 4-0 win over the CBHA Blackhawks.
With those results the Hurricanes advanced to the semi-finals where they lost to their old rival Rockyview by a score of 5-3.
That put them in the bronze medal game against Red Deer, who they had lost to earlier.
This time Lethbridge prevailed by a score of 5-4 to take home bronze.
Burns assisted on Lethbridge's fourth goal in the bronze medal game.
Fresh off that performance, the Hurricanes went to provincials hosted in Lethbridge.
The Hurricanes opened with a 3-2 loss to the CBHA Rangers. They rebounded to tie Lloydminster 2-2 then defeated St. Albert by a 6-1 score.
The next day they defeated Rockyview 4-2, then Leduc by a 5-3 score.
That qualified Lethbridge for a semi-final date with Lloydminster, which they won by a 5-1 score, advancing to the championship final.
Awaiting them were the Rockyview Raiders, who they defeated 2-1 to win the provincial championship.