Smeltzer, Keeley win provincial championships in Ponoka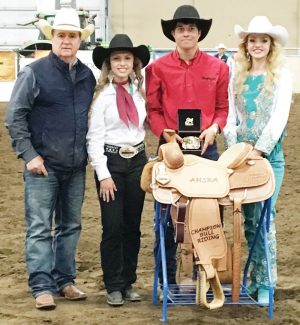 High school rodeo finals
By Rob Vogt, Local Press Writer
Claresholm has produced not one but two provincial high school rodeo champions this year.
The Alberta High School Rodeo Association provincial finals took place in Ponoka from June 1 to 3, and Grady Smeltzer won the bull riding while Kelby Keeley won the goat tying.
Smeltzer turned in three rides with scores of 71, 68.5 and 80.5 to earn the championship.
Keeley turned in times 8.3, 7.5 and 7.7 seconds to win her championship.
She also finished sixth in pole bendin, with times of 21.219, 25.946 and 20.932 seconds.
The National High School Rodeo Association Finals will be in Rock Springs, Wyoming from July 12 to 21.
Payton Watt of Claresholm finished 26th in pole bending, with times of 21.424, 36.742 and 21.612 seconds, and Stavely's Rachel Marchbank finished 21st in working cow horse.
The junior high provincial finals were held in Nanton from May 25 to 27, where Stavely's Genessie was first in pole bending.
Claresholm's Shelby Smith took fourth in girls' breakaway roping.
Williams also took 36th in ribbon roping, while Smith teamed up with Joel Evans of High River to finish 36th in team roping.