Novice Thunder host Nanton Pals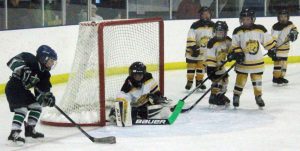 By Rob Vogt, Local Press Writer
The Claresholm Thunder novice hockey team continued their season on the weekend with two games at home.
They hosted two different teams from Nanton on Saturday, Dec. 15 and Sunday, Dec. 16 at the Claresholm Arena.
There have been changes to novice hockey this year, so no score is kept and they skate on half the ice.
This year's Novice Thunder is made up of Johnny Fletcher; Lilly Ferguson; Mason White; Reid Fletcher; Ryan Van Langen; Kahu Perez; Parker Gugala; Dexter Martin; Walker Smith; Brady Ring; Zeke Binnendyk; Ethan Ferguson; and Ryan Peeters.
The Thunder is coached by Jordan Ferguson, and assisted by Glenn Ring; Sarah Green; Cody Fletcher; and Derek Binnendyk.