High school junior prom candidates host tea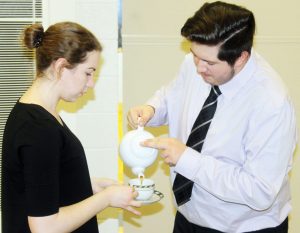 By Rob Vogt, Local Press Writer
Junior prom at Willow Creek Composite High School is under way for another year.
It is an opportunity for Grade 11 students to learn how to dance, gain some experience public speaking, assemble a portfolio of who they are and what they like to do, and get involved in the community.
On Monday, Dec. 10, prom candidates and escorts hosted a tea for their families and friends in the common area of the school.
That was followed by a service auction where candidates offering various talents were auctioned off with proceeds going to offset the cost of prom.
This year's candidates are:
Bailey Gustman;
Mapalo Chisanga;
Dan Schuepbach;
Sage Kennedy;
Jacob Peddle;
Jacci Wicks;
Edison Bray;
Kassidy Kutsch;
Sam Morton;
Andrew Hill.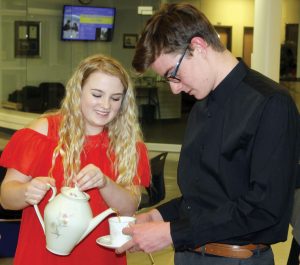 Carissa Jewett and Vanessa Suddard are escorts as well.
All their efforts culminate in the junior prom, held on May 10, 2019 at the Claresholm Community Centre, where the king and queen will be announced as well as first and second prince and princess, and Mr. and Miss Congeniality.
That night will also feature the candidates introducing each other, a demonstration of dance by the prom candidates, a grand march of all candidates, and a skit put on by the current prom royalty and the candidates.